Introducing Revit Architecture 2009: BIM for Beginners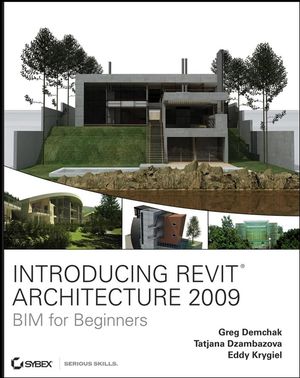 Introducing Revit Architecture 2009: BIM for Beginners
ISBN: 978-0-470-26098-2
May 2008
496 pages
Product not available for purchase
Description
You don't have to be a high-tech wizard to understand the Revit software using Introducing Revit Architecture 2009: BIM for Beginners, the perfect guide for architects of any generation. Start with an overview of BIM concepts before tackling the Revit interface, then move on to use Revit's suite of editing tools. Learn how to use Revit with other applications, document the model for construction, integrate annotations into the model, utilize worksets, and collaborate in a team environment from straightforward explanations, real-world examples, and practical tutorials.



For Instructors: Teaching supplements are available for this title.
Introduction.
Chapter 1: Understanding BIM.
Chapter 2: Getting Acquainted with the Revit Interface and File Types.
Chapter 3: Views.
Chapter 4: Modeling Basics.
Chapter 5: Modifying Elements.
Chapter 6: Extended Modeling.
Chapter 7: Working with Other Applications.
Chapter 8: Preparing Documents for Clients.
Chapter 9: Sheets.
Chapter 10: Annotations.
Chapter 11: Construction Documentation.
Chapter 12: Printing.
Chapter 13: Advanced Topics.
Chapter 14: Tips and Troubleshooting.
Index.
Chapter
Page
Details
Date
Print Run
3
File in the downloads: station.rvt for Chapter 3
The file station.rvt, referred to in Chapter 3, can be found in the Chapter 8 folder on the Resources and Downloads page. It is also used for an exercise in Chapter 8. Several other files are also used in more than one chapter, so if you don't find the file you need, consider downloading all the materials from Resources and Downloads.
3/25/09

---

4
155
Invalid url for online Revit library
Under Getting Additional Content Online, step 2. directs the reader to a web library hosted at autodesk.com. That url has changed. To access the library, the correct url is:
http://www.autodesk.com/revit-library
8/8/08
1st

---