Introducing Revit Architecture 2010: BIM for Beginners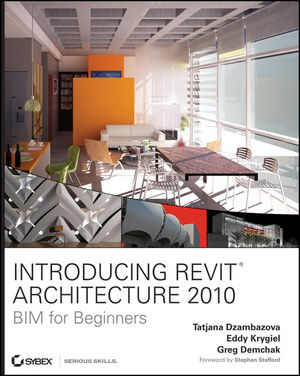 Description
Learn the leading BIM software quickly and easily with this book's detailed discussions and practical exercises



Introducing Revit Architecture 2010 presents the core features of this industry-leading building information modeling (BIM) software with focused discussions and practical exercises to get you up to speed quickly.

Real-world tutorials from the expert authors' extensive experience, along with straightforward explanations and examples, focus squarely on accomplishing vital Revit tasks. Fully illustrated and including a 16-page color insert, Introducing Revit Architecture 2010 explains BIM principles and thoroughly covers Revit's concepts, interface, tools, and process.
Teaches Revit's essential concepts with a no-nonsense, real-world approach
Explains the principles of BIM, then provides a thorough overview of Revit's concepts and interface conventions before delving into crucial Revit tools and tasks
Focuses on accomplishing vital Revit tasks, using practical explanations, real-world architectural scenarios, and in-depth, focused tutorials
Uses in-depth discussions reinforced by comprehensive, step-by-step exercises that demonstrate how to model, document, present, and share your designs
Written by Revit experts, this book is fully updated for Revit 2010 and features an inspirational 16-page color insert
Introducing Revit Architecture 2010 is the essential resource for both students and professionals in the architecture and construction fields.
For Instructors: Teaching supplements are available for this title.
1. Understanding BIM.
2. Getting Acquainted - Interface and File Types.
3. Views.
4. Modeling Basics.
5. Modifying Elements.
6. Extended Modeling.
7. Working with Other Applications.
8. Preparing Docs for Clients.
9. Sheets.
10. Annotations.
11. Construction Documents.
12. Printing.
13. Advanced Topics.
14. Conceptual Design.
15. Tips and Troubleshooting.