Introducing Social Work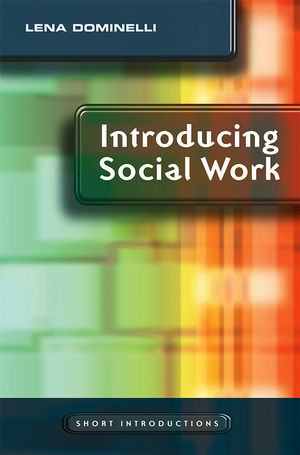 Introducing Social Work
ISBN: 978-0-745-64087-7 March 2009 Polity 184 Pages
Download Product Flyer
Download Product Flyer
Download Product Flyer is to download PDF in new tab. This is a dummy description. Download Product Flyer is to download PDF in new tab. This is a dummy description. Download Product Flyer is to download PDF in new tab. This is a dummy description. Download Product Flyer is to download PDF in new tab. This is a dummy description.
Description
In this lively introduction suitable for students at any level, Lena Dominelli explores the extraordinary scope and importance of social work. Using engaging examples from contemporary social work practice, she clearly answers questions about what social work is, how social workers work in a variety of settings and the clients they are likely to deal with. She tackles head on the dilemmas social workers face in their day-to-day work and the challenges of working with limited resources and marginalized social groups such as the elderly, the homeless and abused children.
This work will affirm the valuable contribution social workers can make to human wellbeing and demonstrate how the promise and potential of social work can be, and is, realized.
Table of contents
Acknowledgements.
Introducing Social Work.
Chapter One: What is Social Work?.
Chapter Two: Working with Children, Young People and their Families: Child Saviour or Child Snatcher?.
Chapter Three: Working with Older People: Market-Driven Facilities or Universal Services?.
Chapter Four: Disabled People: Human Tragedies or Disabling Societies?.
Chapter Five: Mental Ill Health: Care in Institutions or the Community?.
Chapter Six: Homeless People: Independence or Social Neglect?.
Chapter Seven:.
People Who Misuse Substances: Addictions or Responses to Difficult Life Circumstances and Relationships?.
Chapter Eight:.
Offending Behaviour: and Working with Offenders: Rehabilitation or Warehousing?.
Chapter Nine:.
Disaster Interventions: Immediate Relief or Long-Term Reconstruction?.
Conclusions:.
Universal Services for All or Residual Services for the Few?.
Bibliography.
Author Index.
Subject Index
Reviews
"Timely and well written, Introducing Social Work will be an inspiration to all readers and is destined to be of great value in and outside the classroom. A fine contribution to the teaching of social work."
Katherine van Wormer, University of Northern Iowa, Cedar Falls
"Lena Dominelli has done it again. Already amongst the most widely read of social work authors, and with an international reputation, Professor Dominelli has written perhaps her most accessible book to date. Let us hope that it helps to attract many more people to the public service ethos of a much maligned and undervalued, yet critically important profession."
Audrey Mullender, Ruskin College
"This book provides an interesting introduction to the nature of social work and the different settings in which it is practised. It provides a useful update on the changing social work landscape in the UK, but Dominelli also draws on her extensive international experience to expand the vision for social work developments in the UK." 
Karen Lyons, London Metropolitan University
Features
Written by one of the very few top social work academics in the UK whose work is internationally renowned.

Covers all user groups (from young offenders to the elderly and immigrant groups) as well as looking at important themes that shall become of ever greater relevance to social workers ,such as disaster management.

Ideal as a primer to introduce those interested in becoming social workers or about to start their course to the central issues of social work practice.

In a departure from her usual style, Dominelli writes extremely clearly and accessibly bringing the rigour of her scholarly background within the reach of all.