Introducing ZBrush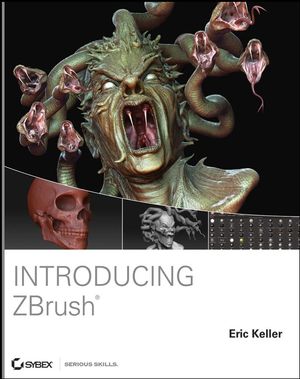 Introducing ZBrush
ISBN: 978-1-118-05964-7
May 2011
464 pages
Product not available for purchase
Description
If you want to take advantage of one of the hottest CG tools available, Introducing ZBrush is the perfect place to start.

Introducing ZBrush helps you jump into this exciting drawing and sculpting software without fear. Learn ZBrush 3.1 basics inside and out and get comfortable sculpting in a digital environment with this relaxed, friendly, and thorough guide. Master these practical techniques and soon you'll be creating realistic, cartoon, and organic models with flair.
Introduces you to ZBrush 3.1, the sculpting software that lets you create digital art with a fine-art feel, which you can transfer into Maya or other 3D applications
Covers painting, meshes, organic sculpting, hard surface sculpting, textures, lighting, rendering, working with other 3D applications, and scripting
Walks you through a series of fun and engaging tutorials where you can start creating your own work, including human, cartoon, and organic models
Learn to create lush, beautiful digital art with ZBrush and this detailed guide.
Introduction.
Chapter 1: Pixels, Pixols, Polygons, and the Basics of Creating Digital Art.
Chapter 2: Facing the ZBrush Interface.
Chapter 3: Painting with Pixols, Part 1.
Chapter 4: Painting with Pixols, Part 2.
Chapter 5: Digital Sculpting.
Chapter 6: Advanced Sculpting Techniques.
Chapter 7: Color, Texture, and Alpha.
Chapter 8: Rendering, Lighting, and Materials.
Chapter 9: ZBrush with Other 3D Applications.
Chapter 10: Plug-ins and ZScripts.
Appendix: About the Companion DVD.
Index.
underwaterScene_6.ZBR
Download the file underwaterScene_6.ZBR, referred to on page 103 in step 21 of the Introducing Masks exercise.
Download
matCap.mov
Download the file matCap.mov, referred to in step 22 of the instructions beginning on 343 under the heading "Modifying MatCap Materials."
Download
gingerBreadMan.ZTL
This is a file that is missing from the DVD with the book.
Download
Chapter
Page
Details
Date
Print Run
3
103
File underwaterScene_6.ZBR missing on CD
The file underwaterScene_6.ZBR, referred to in step 21 of the Introducing Masks exercise, was left off of the CD that shipped with the book. You may download this file on the Resources and Downloads page
10/31/08

---

8
346
File matCap.mov missing from CD
The file matCap.mov, referred to in step 22 of the instructions beginning on 343 under the heading "Modifying MatCap Materials," was left off of the CD-R that shipped with the book.

You can dowload the file at the Resources and Downloads page
11/12/08

---