Introduction to Adobe Dreamweaver CS6 with ACA Certification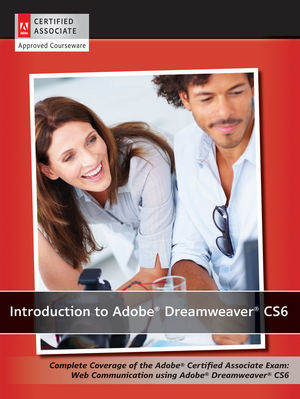 Introduction to Adobe Dreamweaver CS6 with ACA Certification
ISBN: 978-1-118-54299-6 November 2012 568 Pages
Description
Dreamweaver is the industry standard software for professional website design. Introduction to Adobe Dreamweaver CS6 with ACA Certification, written by expert instructors, provides a complete introduction to Adobe Dreamweaver and provides all the classroom tools needed to teach a complete certification program.  
Using this textbook, students master the foundational skills needed when working with style sheets, dynamic HTML, multimedia, databases, project management and much more. This text includes essential skills required for designing, developing, and maintaining websites as well as project management.  Students gain valuable skills that further their careers in website development by learning to design and maintain fully functioning sites using the newest version of Dreamweaver. This curriculum, created by a team of Adobe experts who have developed training programs for Adobe Systems, offers your students the opportunity to confidently prove their skills mastery and gain this job-focused certification to give them the needed edge on their career path. Adobe Certified Associate exam vouchers are available for bundling for an additional fee.
Table of contents
Starting Up
Lesson 1: Dreamweaver CS6 Jumpstart
Lesson 2: Setting Up a New Site
Lesson 3: Adding Text and Images
Lesson 4: Styling Your Pages with CSS
Lesson 5: Creating Page Layouts with CSS
Lesson 6: Advanced Page Layout
Lesson 7: CSS3 Transitions and Web Fonts
Lesson 8: Working with Tables
Lesson 9: Fine-Tuning Your Workflow
Lesson 10: Adding Flash, Video, and Sound Content
Lesson 11: Maximizing Site Design
Lesson 12: Working with Code-editing Features
Lesson 13: Building Web Forms
Lesson 14: Adding Interactivity with the Spry Framework
Lesson 15: Mobile Design and Layout
Lesson 16: Managing your Website: Reports, Optimization, and Maintenance
Lesson 17: Dreamweaver CS6 New Features
Features
A comprehensive Intro to Flash textbook designed for classroom use
Complete coverage of the Adobe Certified Associate (ACA) certification integrated throughout the book.
Over 3 hours of online video tutorials included with the book.