Introduction to Adobe Flash Professional CS6 with ACA Certification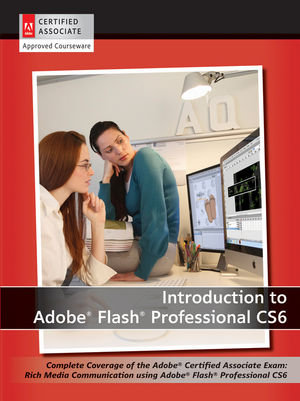 Introduction to Adobe Flash Professional CS6 with ACA Certification
ISBN: 978-1-118-54403-7 January 2013 512 Pages
Description
Introduction to Adobe Flash Professional CS6 with ACA Certification
, written by expert instructors, provides all the classroom tools needed to teach a complete certification program. Your students learn to design and maintain dynamic websites using Adobe Flash. This curriculum covers topics such as using layers to build animation sequences, creating interactive web components with ActionScript, project management and much more. Through the ACA coverage, students will also learn valuable insight into animation and web design job roles that use Flash.
This single book provides students with a complete introduction to Flash along with a comprehensive exam preparation. This complete classroom course, created by a team of Adobe experts who have developed training programs for Adobe Systems, offers your students the opportunity to confidently prove their skills mastery and gain this job-focused certification to give them the needed edge on their career path. Adobe Certified Associate exam vouchers are available for bundling for an additional fee.
Table of contents
About Flash Digital Classroom
Prerequisites
System requirements
Starting Adobe Flash Professional CS6
Resetting the Flash workspace
Loading lesson files
Working with the video tutorials
Setting up for viewing the video tutorials
Viewing the video tutorials with the Adobe Flash Player
Hosting Your Flash content and websites
Additional resources
Lesson 1: Flash CS6 Jumpstart
Lesson 2: Getting Started with the Drawing Tools
Lesson 3: Using Symbols and the Library
Lesson 4: Advanced Tools
Lesson 5: Creating Basic Animation
Lesson 6: Advanced Animation
Lesson 7: Customizing Your Workflow
Lesson 8: Working with Imported Files
Lesson 9: Introducing ActionScript
Lesson 10: Creating Navigation Controls
Lesson 11: Adding Sound to Your Movies
Lesson 12: Introducing Movie Clips
Lesson 13: Working with Video
Lesson 14: Delivering Your Final Movie
Lesson 15: What's New in Adobe Flash CS6?
Features
A comprehensive Intro to Flash textbook designed for classroom use
Complete coverage of the Adobe Certified Associate (ACA) certification integrated throughout the book.
Over 3 hours of online video tutorials included with the book.