Introduction to Adobe Photoshop CS6 with ACA Certification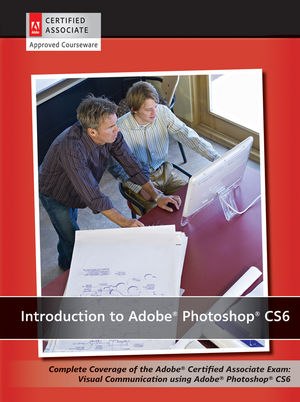 Introduction to Adobe Photoshop CS6 with ACA Certification
ISBN: 978-1-118-39408-3
Jan 2013
480 pages
Description
One of the fastest growing technical certification markets is the Adobe Certified Associate (ACA) exam program. Introduction to Adobe Photoshop CS6 with ACA Certification, written by expert instructors, includes all the classroom tools needed to teach an introductory Photoshop course and prepare your students for the certification exam. In addition to learning Adobe Photoshop, this textbook prepares students to earn this valuable job-focused certification helping them jump-start their careers in such fields as commercial design and print/web production. Students will master the skills needed when working with Adobe Bridge, Camera RAW, masks and layers, painting and retouching, project management and much more.
This single book provides students with a complete introduction to Photoshop along with a comprehensive exam preparation. This curriculum, created by a team of Adobe experts who have developed training programs for Adobe Systems, offers your students the opportunity to confidently prove their skills mastery and gain this valuable certification to give them the needed edge on their career path. Adobe Certified Associate exam vouchers are available for bundling for an additional fee.
Starting up
About Photoshop Digital Classroom
Prerequisites
Adobe Photoshop CS6 versions
System requirements
Starting Adobe Photoshop CS6
Resetting Adobe Photoshop CS6 preferences
Loading lesson files
Working with the video tutorials
Setting up for viewing the video tutorials
Viewing the video tutorials
with the Adobe Flash Player
Additional resources
Lesson 1: Exploring Photoshop CS6
Starting up
Experimenting with new Vector capabilities
Filling a vector shape with a pattern
Adding a mask to a Vector layer
Using the new brush tips
Saving the new Brush
Adding strokes to vector images
Cloning your new snowflake
Adding Text layers from another document
Updating text styles
Cropping an image
Self study
Review
Lesson 2: Getting to Know the Workspace
Starting up
Opening an existing document in
Mini Bridge
Discovering the Tools panel
Selection, Cropping, and Measuring Tools
Retouching and Painting Tools
Drawing and Type Tools
Navigation Tools
Accessing tools and their options
Using panels
Putting the panel system to use
Choosing other panels
Expanding and collapsing your panels
Customizing your panels
Hidden tools
Navigating the image area
Using the Zoom tool
Using the Hand tool
Tabbed windows
Maximizing productivity with screen modes
Self study
Review
Lesson 3: Taking Advantage of Adobe Bridge
Starting up
What is Adobe Bridge?
Navigating through Bridge
Using folders in Adobe Bridge
Making a Favorite
Creating and locating metadata
Using keywords
Creating a Metadata Template
Opening a file from Adobe Bridge
Searching for files using Adobe Bridge
Searching by name or keyword
Using the Filter panel
Saving a Collection
Automation tools in Adobe Bridge
Batch renaming your files
Additional Photoshop Tools
Automated tools for Photoshop: Web Photo Gallery
Saving or uploading your Web Gallery
Automated tools for Photoshop: PDF contact sheet
Changing the view
Self study
Review
Lesson 4: Photoshop Basics
Starting up
Opening an existing document
Understanding document settings
Viewing an image's size and resolution
Combining the images
Using Copy and Paste
Dragging and dropping to copy an image
Transforming and editing combined images
Changing the size of a placed image
Removing a background
Understanding the stacking order of layers
Refining the edges of copied images
Adding text
Saving files
Understanding file formats
Choosing a file format
Saving a JPEG file
Saving for print
Changing the color settings
Adjusting image size
Saving a Photoshop PDF file
Self study
Review
Lesson 5: Making the Best Selections
Starting up
The importance of a good selection
Using the Marquee tools
Creating a square selection
Creating a selection from a center point
Changing a selection into a layer
Working with the Magic Wand tool
The Lasso tool
Adding to and subtracting from selections
Deleting from the selection
Saving a selection
Feathering the selection
Using the Quick Selection tool
Making difficult selections with
the Refine Edge feature
Using Quick Mask
Saving selections
Copying and pasting a selection
Using the Pen tool for selections
Using the Pen tool to select an area of an image
More Pen tool selection techniques
Converting a path to a selection
Self study
Review
Lesson 6: Painting and Retouching
Starting up
Setting up your color settings
Color primer
Understanding color gamut
The RGB color model
The CMYK color model
Working in the RGB mode
Editing color settings
Selecting colors
Starting to paint
Using the Color panel
Using the Brush tool
Changing opacity
Save time—learn the shortcuts
Using the Brush Presets
Using the Airbrush feature
Creating a Border using the Bristle brushes
Applying color to an image
Changing blending modes
The Eyedropper tool
Retouching images
Using the Clone Stamp tool
Repairing fold lines
The History panel
The Spot Healing Brush
The Healing Brush
Using the Patch tool
Using the Clone Source panel
Cloning from another source
Self study
Review
Lesson 7: Creating a Good Image
Starting up
Choosing your color settings
Opening the file
Why you should work in RGB
Reading a histogram
Making the Curve adjustment
Defining the highlight and shadow
Locating the White and Black Point
Inputting the white and black point values
Adjusting the midtones
Setting the neutral
Sharpening your image
Comparing your image with the original
Taking care of red eye
Using the Camera Raw plug-in
Using Camera Raw controls
Saving a DNG file
Reopening a DNG file
Self study
Review
Lesson 8: Getting to Know Layers
Starting up
Discovering layers
Getting a handle on layers
Creating a new blank file
Naming your layer
Selecting layers
Tips for selecting layers
Moving layers
Changing the visibility of a layer
Using masks in a layer
Preserve transparency
Creating a composition
Moving images in from other documents
Creating a layer mask
Editing the layer mask
Cloning layers
Aligning and distributing layers
Applying filters to layers
Creating a type layer
Applying a layer style
Creating a clipping mask
Testing out the new Filter for the Layers panel
Self study
Review
Lesson 9: Taking Layers to the Max
Starting up
Making color changes using adjustment layers
Refining the adjustment layer mask
Adjusting the Hue/Saturation layer
Adding a pattern fill layer
Defining the pattern
Applying the pattern
Using the Black & White adjustment layer
Adding a tint
Applying a gradient to the adjustment layer
Layer styles
Creating the text layer
Applying the Outer Glow layer style
Applying the Bevel and Emboss layer style
Changing the shading
Changing the fill opacity
Saving the style
Accessing the style
Self study
Review
Lesson 10: Getting Smart in Photoshop
Starting up
Creating a composition using Smart Objects
Opening an image as a Smart Object
Converting a layer to a Smart Object
Placing a Smart Object
Editing a Smart Object
Editing the contents of a Smart Object
Modifying multiple Smart Object layers
Replacing the contents of a Smart Object layer
Working with Smart Filters
Modifying a Smart Filter
Self study
Review
Lesson 11: Using Adobe Photoshop Filters
Starting up
Filter basics
Starting to use filters
Using the Clouds filter
Fading your filter
Using the Filter Gallery
Applying filters in the Gallery
Taking advantage of Smart Filters
Applying a Smart Filter
Smart Filter options
Enabling and disabling effects
Using a filter effects mask
Using the Vanishing Point filter
Building your own perspective planes
Building an attached plane
Self study
Review
Lesson 12: Creating Images for Web and Video
Starting up
Changing your units of measurement
Creating the web page
Adding the TextAdding Style to the text
Creating the text for the links
Positioning and distribution of text
Creating slices
Slicing it up
Selecting and combining slices
Applying attributes to your slices
Using Save For Web
Optimizing the image slices
Saving files for video
Creating animation
Working in Frame mode
Saving an animated GIF
Creating animation for HD video
Working in Timeline mode
Self study
Review
Lesson 13: Introducing 3D
Creating a 3D object
Confirming that you can use Photoshop 3D features
Locating the GPU/OpenGL preferences
in Photoshop CS6
Getting an image ready for 3D
Wrapping the image around a soda can
Positioning the soda can in 3D space
Adjusting materials and lightingWorking with light sources
Animating the soda can
Exporting your animation
Creating 3D Text
Applying materials to the 3D mesh
Rendering and Rasterizing your 3D images
Exporting your 3D imageSelf study
Review
Lesson 14: Photoshop CS6 New Features
Starting up
New Look and Feel
Sketch and paint with new brush tips
New content-aware tools
Investigating the Content-Aware Move tool
Stroke and fills
Layer panel improvements
More options for creating patterns
New and improved 3D features
OpenGL is now required
Better tool unification
3D Widgets
3D Merge improved
A comprehensive Intro to Photoshop textbook designed for classroom use
Complete coverage of the Adobe Certified Associate (ACA) certification integrated throughout the book.
Over 3 hours of online video tutorials included with the book.