Introduction to Adobe Photoshop CS6 with ACA Certification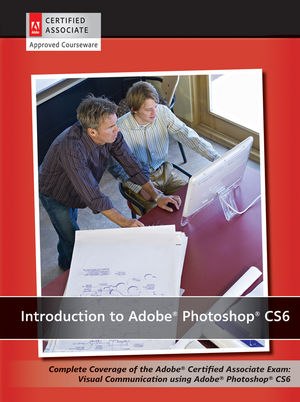 Introduction to Adobe Photoshop CS6 with ACA Certification
ISBN: 978-1-118-39408-3
Jan 2013
480 pages
Description
One of the fastest growing technical certification markets is the Adobe Certified Associate (ACA) exam program. Introduction to Adobe Photoshop CS6 with ACA Certification, written by expert instructors, includes all the classroom tools needed to teach an introductory Photoshop course and prepare your students for the certification exam. In addition to learning Adobe Photoshop, this textbook prepares students to earn this valuable job-focused certification helping them jump-start their careers in such fields as commercial design and print/web production. Students will master the skills needed when working with Adobe Bridge, Camera RAW, masks and layers, painting and retouching, project management and much more.
This single book provides students with a complete introduction to Photoshop along with a comprehensive exam preparation. This curriculum, created by a team of Adobe experts who have developed training programs for Adobe Systems, offers your students the opportunity to confidently prove their skills mastery and gain this valuable certification to give them the needed edge on their career path. Adobe Certified Associate exam vouchers are available for bundling for an additional fee.
A comprehensive Intro to Photoshop textbook designed for classroom use
Complete coverage of the Adobe Certified Associate (ACA) certification integrated throughout the book.
Over 3 hours of online video tutorials included with the book.