Introduction to Animal Science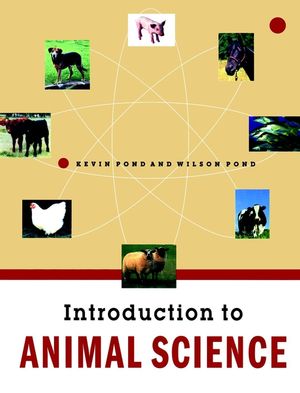 Introduction to Animal Science
ISBN: 978-0-471-17094-5 February 2000 736 Pages
Download Product Flyer
Download Product Flyer
Download Product Flyer is to download PDF in new tab. This is a dummy description. Download Product Flyer is to download PDF in new tab. This is a dummy description. Download Product Flyer is to download PDF in new tab. This is a dummy description. Download Product Flyer is to download PDF in new tab. This is a dummy description.
Description
Pond is for the mainstream introduction to animal science taught in every university that has a school of agriculture or animal science department. The result of years of teaching, the book provides students with a comprehensive and balanced overview of animal agriculture in contemporary society, taking into account the needs of students with highly varied cultural backgrounds and educational objectives.
Table of contents
Animals In Society
* Food Production
* Domestic Animals
* Animal Agriculture in the U.S. and World
Biological Principles of Animal Production
* Reproduction
* Lactation
* Genetics
* Growth
* Nutrition and Feeding
Stewardship
* Animal Husbandry: Fulfilling Animal Needs
* Animal State-of-Being
* New and Emerging Issues
Animal Industries
* Live Animal Evaluation: Beef Cattle, Sheep and Swine
* Dairy Cattle
* Beef Cattle
* Poultry and Egg Production
* Horses and the Horse Industry
* Swine
* Sheep and Goats
* Aquatic Animals
* Cats and Dogs
* Other Animals, Other Uses, Other Opportunities
Animal Products
* Meat and Meat Products
* Milk and Milk Products
* Poultry and Poultry Products
* Aquaculture Products
* Wool, Mohair, and Other Animal Fibers
The Future
* Animals and Society in the 21st Century
Appendix
Reviews
"...useful to any technologist or student seeking a deeper insightinto the science and effort of producing animal products." (FoodScience & Technology Today, Vol 14/3, 2000)
Features
Authoritative authorship. The authors are well-known, well-published and well-respected in the area of animal science.
Organization. Emphasis is on five general areas of focus to meet the needs and interests of students whose cultural backgrounds and educational objectives are highly varied.

Population and Food Supply. Addressed within the framework of how animal agriculture contributes to the overall human endeavor.
Principle of animal biology as a science within the context of life-cycle production of animals for economic and biological efficiency. Addressed in order to provide a firm foundation for the study of the production of individual species of farm animals.
Individual chapters devoted to the description and analysis of particular animal industries (i.e., dairy cattle, beef cattle, sheep and goats, swine, poultry, horses and aquatic animals, etc.). Evaluation of live animals and the marketing of animals is also discussed.
The products of animal agriculture. Includes meat, milk, poultry, eggs, fish, fiber, and other products and by-products of the industry.

A separate chapter on emerging issues in animal science.
Societal issues have been covered throughout the text. The final chapter ties the production system and societal issues together.
Text includes contributions from authors that are well recognized as experts in their respective areas of study. These contributors include: D.E. Ullrey, D.G. Sisler, S. P. Jackson, L. E. Chase, A. D. Herring, R. Ernst, D. Topliff, R. T. Lovell, D. Laflamme, J. Bernard, M. F. Miller, R. Bradley, A. Sams, D. E. Hogue, D. Buchanan, M. Thonney, A. Bell.