Introduction to Biophotonics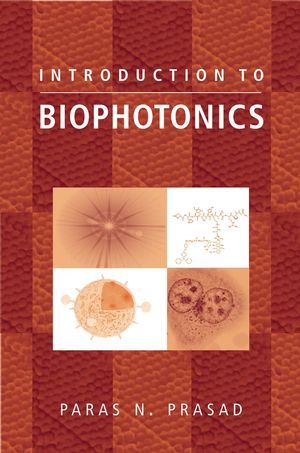 Introduction to Biophotonics
ISBN: 978-0-471-46539-3
Jan 2004
593 pages
Description
Paras Prasad's text provides a basic knowledge of a broad range of topics so that individuals in all disciplines can rapidly acquire the minimal necessary background for research and development in biophotonics. Introduction to Biophotonics serves as both a textbook for education and training as well as a reference book that aids research and development of those areas integrating light, photonics, and biological systems. Each chapter contains a topic introduction, a review of key data, and description of future directions for technical innovation. Introduction to Biophotonics covers the basic principles of
Optics

Optical spectroscopy

Microscopy
Each section also includes illustrated examples and review questions to test and advance the reader's knowledge. Sections on biosensors and chemosensors, important tools for combating biological and chemical terrorism, will be of particular interest to professionals in toxicology and other environmental disciplines. Introduction to Biophotonics proves a valuable reference for graduate students and researchers in engineering, chemistry, and the life sciences.
Preface.
Acknowledgments.
1. Introduction.
2. Fundamentals of Light and Matter.
3. Basics of Biology.
4. Fundamentals of Light-Matter Interactions.
5. Principles of Lasers, Current Laser Technology, and Nonlinear Optics.
6. Photobiology.
7. Bioimaging: Principles and Techniques.
8. Bioimaging: Applications.
9. Optical Biosensors.
10. Microarray Technology for Genomics and Proteomics.
11. Flow Cytometry.
12. Light-Activated Therapy: Photodynamic Therapy.
13. Tissue Engineering with Light.
14. Laser Tweezers and Laser Scissors.
15. Nanotechnology for Biophotonics: Bionanophotonics.
16. Biomaterials for Photonics.
Index. 
"...destined to become part of the canon of science books whose farreaching influences help make history." (
Journal of Biomedical Optics
, May/June 2005)
"The author has provided a wonderful resource, and created a must have book for those interested in the field of biophotonics." (Annals of Biomedical Engineering, September 2004)
"Prasad has what it take to assemble a survey of the fundamentals and applications in a manner that is undoubtedly of interest to not only 'those involved in health, safety, and environmental disciplines' but also to basic scientists and engineers." (Journal of the American Chemical Society, Sept 29, 2004)
"…an interesting and very readable book that provides an excellent introduction to the field of biophotonics. The lucid discussion is complimented by numerous and helpful figures. I recommend it with enthusiasm." (The Quarterly Review of Biology, Vol. 7, March 2004)
"...provides an excellent and thorough introduction to the key areas of researchers. Even researchers who work in this field will be pleased with the thorough treatment...and gain an appreciation for how their research fits into the broader context...provides an excellent overview...that will be appreciated by undergraduates, graduate students, and researchers.... I recommend it with enthusiasm." (The Quarterly Review of Biology)
Provides a much-needed overview of an emerging discipline
Integrates coverage of several fields, including biochemistry, optics, spectroscopy, and medicine