Introduction to Business Information Systems, 3rd Canadian Edition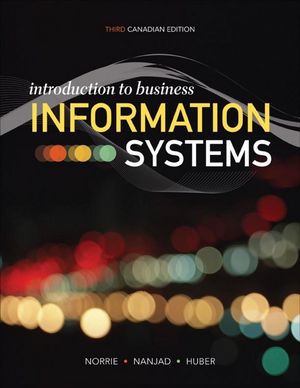 Introduction to Business Information Systems, 3rd Canadian Edition
Description
Most students, regardless of their major, need to understand information systems and technologies and their importance to the success of business organizations. While many of today's students have lived with technology their whole lives, they do not see the connection between what they use every day and what they need to understand to be successful in the business world. Introduction to Business Information Systems, Third Canadian Edition by James Norrie, Michelle Nanjad and Mark Huber focuses on IT as a source of business value and outlines the innovative technologies, as well as the innovative ways to use technology, that help businesses excel. The goal of this book is to teach students that the effective integration of IS with knowledge can drive the creation of significant business value.
Introduction to Business Information Systems, Third Canadian Edition is written for both the IT and non-IT major. It is written in a friendly, accessible style that will draw students in and engage them with the content. Expanded coverage of highly technical concepts is included in the Technology Core box found in each chapter as well as the Tech Guides.
Chapter 1: IT For Business and Business Professionals
The Importance of Infromation Systems
What's in IT for Me?
What's in IT for an Organization?
What's in IT for Society?
Chapter 2: Technology Essentials
The Components of IT
The Internet
The World Wide Web
Internet Security
Meaningful Applications of Technology
Chapter 3: Managing and Using Data
Data, Information, and Knowledge
Decision Making and Problem Solving
Databases: The Primary Data Storage for Organizations
Business Intelligence
Chapter 4: Enterprise Systems
Information Systems that Support Business Activities
Enterprise Resource Planning
Enterprise Risk Management
Chapter 5: Creating Business Value
Business Organization and Business Processes
Applying IT to Create Business Value
Corporate, IT, and Project Governance
Chapter 6: Managing IS Projects and Creating IS Solutions
Critical Pre-Development Questions
The Stages and Importance of the System Development Life Cycle (SDLC)
Managing an IS Project
IS Development Teams
Standard IS Methodology
IT Tools for IS Development
Chapter 7: E-Commerce
E-Commerce Defined
The E-Commerce Advantage
Benefits and Limitations of E-Commerce
E-Commerce Between Organizations
The Technology of E-Commerce
Chapter 8: Web 2.0, Social Media, and Online Trends
Defining Social Technologies and Utility
User-Generated Content
Creating Business Utility Using Social Media Tools and E-Marketing
The Social and Business Impacts of Web 2.0
Tech Guide A: The Details of IT Hardware and Software
An Overview of Hardware
Hardware Devices
Operating Software
Application Software
Tech Guide B: The Details of Networking
Network Architecture
Network Layer Model
Different Kinds of Networks
Tech Guide C: The Details of SQL, Logical Modelling, and XML
Using SQL to Query Relational Databases
Using Logical Modelling to Create a Relational Database and Querying Multitable Databases
Using XML for Data Transfer
Currency: The pace of technological innovation is truly staggering, so any IT book needs constants updating. In this new edition you will find new or increased coverage of the following:
Characteristics of the digital world we live in; Internet crime and cyberterrorism (Chapter 1)
Internet security; business continuity; cloud computing (Chapter 2)
Dashboards and visual analytics (Chapter 3)
Competitive necessity; co-opetition (Chapter 5)
Technology-based acquisitions; end-user development (Chapter 6)
Social media usage and trends; search engine optimization (Chapter 8)
New Cases: Each chapter includes one entirely new case (for a total of two cases in each chapter), plus additional cases that are available through WileyPLUS.  Some of these cases are based on real-life companies or situations; others are critical thinking exercises that ask students to think of solutions to common business problems.
Study Cards: At the back of the book are detachable Study Cards that students can take with them to study on the go.  These cards include a summary of key points for each chapter, including diagrams; a list of the most important key terms (Knowledge Speak); key figures to help students visualize the material; and a Quick Test to test their knowledge of the chapter content.
Design: Redesigned to meet the visual needs of learners with more visuals and a more provocative design.
Voice of Experience: Q&A session with successful business professionals who are using information systems in a variety of business environments. This motivates students by providing a first-hand account on how information technology drives business in a real-world scenario
Student ROI (Return on Investment): Provides a list of learning objectives that the student will understand after reading the chapter (or the return on investment of reading time). These learning objectives are summarized at the end of chapter in the Student ROI Summary section.
What Do You Think? Boxes: These boxes are scattered throughout the chapters and pose critical thinking questions about the topic just covered.  They provide discussion questions for guided classroom debate and allow students an opportunity to think critically and relate the material to their own experience or examples. Suggested discussion points/answers are provided in the Instructor's Manual.
Quick Tests: There are short quizzes at the end of each major section, which provide an opportunity for students to test their understanding of the material in that section.
Tech Guides: Expanded coverage of these topics to provide more technical detail for those who want it.
Software Application Exercises: Asks students to solve a series of related exercises using word processing, spreadsheet, presentation, database, and Internet software.
Team Activity: Provides an opportunity for the student to work in a team to carry out an activity pertaining to the chapter material.
Case Studies: Short descriptions of how well-known companies use information systems at the end of each chapter. There are two Case Studies with accompanying case questions per chapter.