Introduction to Google SketchUp, 2nd Edition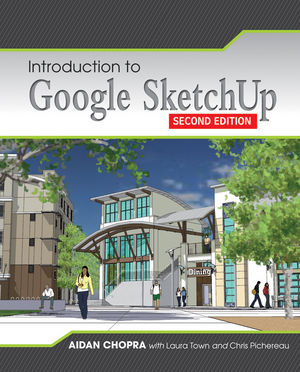 Introduction to Google SketchUp, 2nd Edition
ISBN: 978-1-118-32434-9
Feb 2012
576 pages
Description
Considerably easier to use than other 3D software, Google SketchUp has found a niche in architecture, landscape design, real estate development, furniture building, and other design professions. This book provides an accessible approach that assumes no previous 3D modeling experience and explains the basic concepts involved in 3D modeling. Introduction to SketchUp shows readers how to build a 3D model, print it, share it, export it to another professional design package, export it to Google Earth, and create a 3D animated tour. It also helps readers harness the power of Google SketchUp so that they can populate Google Earth with 3D buildings, monuments, and other sculptures.

This edition is updated with the latest version of Google SketchUp software, easy-to-read, and practical, this text not only helps you learn how to use Google SketchUp at your own pace; it helps you master the core competencies and skills you need to succeed. Developed with architects, interior designers, landscapers and other design gurus in mind, Google SketchUp is the fast, easy way to build 3D models of anything you wants—buildings, furniture, landscapes, or your own unique creations.
Chapter 1:  Meeting Google SketchUp: A Brief Overview
Chapter 2:  Establishing the Modeling Mindset: Model Basics
Chapter 3:  Building Simple Models: Step-by-Step Instructions for Creating a Model of a Doghouse
Chapter 4:  Modeling Buildings: From Drafting a Floor Plan to Adding a Roof
Chapter 5:  Keeping Your Model's Appearance - Working with Components
Chapter 6: Creating Everyday Objects: Tools, Techniques, and Tips
Chapter 7:  Keeping Your Model Organized: Using the Outliner and Layers
Chapter 8:  Modeling with Photographs: Using Photo Match to Build Models
Chapter 9: Changing Your Model's Appearance: Applying Styles and Shadows
Chapter 10:  Presenting Your Model Inside SketchUp: Showing Off Your Model
Chapter 11:  Working with Google Earth and the 3D Warehouse: Tying Together All of Google's 3D Software
Chapter 12:  Printing Your Work: With a Windows PC and a Mac
Chapter 13:  Exporting Images and Animations: Making Image Files and Movies
Chapter 14:  Exporting to CAD, Illustration, and Other Modeling Software: Using SketchUp Pro
Chapter 15:  Creating Presentation Documents with LayOut: Presenting 3D SketchUp Pro Models on Paper and On Screen: Working with Templates and Scrapbooks
Chapter 16:  Troubleshooting and Using Additional Resources: Fixing Problems and Enhancing Your Model
Bonus Online Chapter Creating Dynamic Components
Glossary
Index
This second edition has been updated and modified in response to user suggestions:
All techniques and features have been updated to reflect the changes made in Google SketchUp8
New pedagogical features and instructor support:

For Example boxes
Career Connections
In the Real World
Apply: What Would You Do?
Be a Designer, Architect, and Developer…
Instructor's Resource Manual
Chapter 2 now includes a section on mastering the rotate tool.
Chapter 6 has been revised to include sections on creating new and editing existing terrain. This chapter also explains solids and demonstrates the proper use of solid tools to students.
Chapter 8 now includes techniques to optimize photo textures, demonstrates how to wrap an image around a cylinder, and how to match more than one photo.
Chapter 10 has a brief section on using scenes to manage your model
Chapter 11, was updated to include information on organizing your collections in the Google 3D warehouse and controlling access to your online models
Chapter 15 now provides an in-depth look at LayOut from working with dimensions, managing styles, and working with templates and scrapbooks.
Online Bonus Chapter: Creating Dynamic Components
Assumes no prior experience with SketchUp.
Covers both the retail (SketchUp Pro) and free Google download versions.
Explores how to harness the power of Google SketchUp to create 3D models, add textures, create animated walkthroughs, and export models into Google Earth.
Career Connection and In the Real World sections presents real life examples throughout the text, which illustrates how professional architects, interior designers, and other design gurus use Google SketchUp.
Clear, everyday language and clean format. Students can read each chapter without being intimidated by difficult language or overwhelmed by sidebars, textboxes, and other fillers that interrupt the flow of the writing.  
Modular format.  Instructors can reorder textbook content to suit the needs of a particular class. The text proceeds logically from the basics to more challenging material, and chapters are further organized into sections that are self-contained for maximum teaching and learning flexibility
Tips from the Professionals. A list of tips that provide relevant advice and helpful tools for students.
Apply: What Would You Do?These questions drive home key ideas by asking students to synthesize andapply chapter concepts to new, real-life situations and scenarios.
Be a Designer, Architect, and Developer...Found at the end of each chapter, "Be a . . ." questions are designed to extend students' thinking and are thus ideal for discussion or writing assignments. Using an open-ended format and sometimes based on Web sources, they encourage students to draw conclusions using chapter material applied to real-world situations, which fosters both mastery and independent learning.