Introduction to Hazardous Waste Incineration, 2nd Edition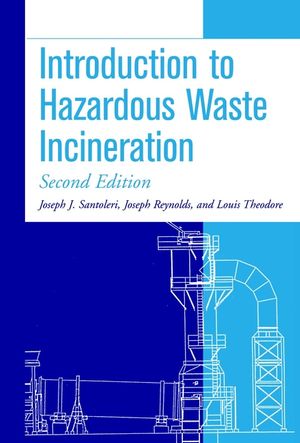 Introduction to Hazardous Waste Incineration, 2nd Edition
ISBN: 978-0-471-01790-5 October 2000 656 Pages
Description
Introduction to Hazardous Waste Incineration,

Second Edition

The control of hazardous wastes is one of today's most critical environmental issues. Increasing numbers of engineers, technicians, and maintenance personnel are being confronted with problems in this important area. Incineration has become an available and vital option to meet the new challenge of containing hazardous wastes. Introduction to Hazardous Waste Incineration, Second Edition provides a reference work that examines the basic concepts, principles, equipment, and applications pertaining to hazardous waste incineration.

Uniquely serving as both an essential guidebook for practicing engineers and a text for engineering students, this new edition contains updated information in the area of standards and regulations, equipment, materials handling equipment, instrumentation, control performance testing, final permit, and facility design. The authors' aim is to offer the reader the fundamentals of incineration with appropriate practical application to the incineration of wastes, in addition to providing an introduction to the specialized literature in this and related areas. Complete with illustrative examples, this informative Second Edition highlights:
* Recent history of standards and regulations, including the recently enacted MACT Standards for hazardous waste combustion
* Incineration principles, including stoichiometric calculations, and thermochemical considerations
* Equipment that may be found in a waste incineration facility (i.e., incinerator, waste heat boiler, quench systems, and air pollution control equipment)
* Design principles and their application to a hazardous waste incineration facility
* Practice problems at the end of each technical chapter

Introduction to Hazardous Waste Incineration, Second Edition offers chemical and environmental engineers working in the hazardous waste control area, as well as technicians and maintenance professionals, the necessary literature to cope with some of the complex problems encountered in waste incineration today.
Table of contents
THE HAZARDOUS WASTE PROBLEM.

Hazardous Waste Incineration Overview.

Other Options

Standards and Regulations.

INCINERATION PRINCIPLES.

Basic Concepts.

Stoichiometric and Thermodynamic Considerations.

Thermochemical Applications.

EQUIPMENT.

Hazardous Waste Combustors.

Waste Heat Boilers.

Quenchers.

Air Pollution Control Equipment.

Materials Handling and Ancillary Equipment.

FACILITY DESIGN.

Design Principles.

Economic Considerations.

Design of a Hazardous Waste Incineration Facility.

Appendices.

Index.
Reviews
"A text and reference for student and practicing environmental engineers...[the authors] discuss the fundamentals of incineration with practical application to wastes..." (SciTech Book News, Vol. 25, No. 4, December 2001)
"Reviewing this book was an enjoyable experience...it is well-written and thoroughly covers the topic...a sterling book for both students and practitioners." (Journal of Hazardous Materials, Vol. 89, No. 1, January 2002)
Downloads
Introduction to Hazardous Waste Incineration, 2nd Edition (CUSTDATA.INI)

Download
Introduction to Hazardous Waste Incineration, 2nd Edition (HWI.DAT)
1. HWI - This program performs the hazardous waste incinerator calculations. Communication between you and the program is handled in interactive fashion; all data are inputted in response to prompts that appear on the monitor screen during execution of the program. The data file HWLDAT supplies required information to HWI.
Download
Introduction to Hazardous Waste Incineration, 2nd Edition (HWIF.DAT)
3. HWIF - This program is an expanded version of HWI and allows for waste blending, a secondary combustion chamber and quenching of the gas products. The data file HWIF.DAT supplies required information to HWIF.
Download
Introduction to Hazardous Waste Incineration, 2nd Edition (HWI Description.doc)
What Is the HWI Software Package?

The HWI Software Package is contained on the disk (sometimes referred to as a floppy disk) that accompanies this book. This package consists of three programs and two data files. The three programs are briefly described below and are discussed in detail in Sections A.3, A.4 and A.5. Two of the programs, HWI and HWITRL, serve as the basis for the USEPA Air Pollution Training Institute's self-instructional course, ST-458. The materials for this course are provided in a file named SETUP, which is also contained on the floppy disk and is provided as part of this package with permission of the Air Pollution Training Institute. The setup program also allows easier installation of the HWI and HWITRL programs to the hard drive.

The three programs that make up the HWI software package are:

1. HWI - This program performs the hazardous waste incinerator calculations. Communication between you and the program is handled in interactive fashion; all data are inputted in response to prompts that appear on the monitor screen during execution of the program. The data file HWLDAT supplies required information to HWI.

2. HWITRL - The "TRL' stands for tutorial. The purpose of HWITRL is to familiarize the user with the HWI program. The solutions to two problems, as they would he solved using HWI, are simulated in step-by-step fashion. Some explanation of the theory behind the calculations is also presented on the monitor during the execution of HWITRL.

3. HWIF - This program is an expanded version of HWI and allows for waste blending, a secondary combustion chamber and quenching of the gas products. The data file HWIF.DAT supplies required information to HWIF

Download
Introduction to Hazardous Waste Incineration, 2nd Edition (README.TXT)

Download