Introduction to Human Nutrition, 2nd Edition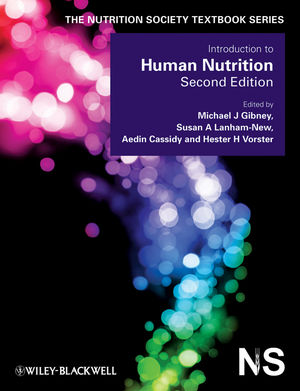 Introduction to Human Nutrition, 2nd Edition
ISBN: 978-1-405-16807-6
Apr 2009, Wiley-Blackwell
384 pages
Description
In this Second Edition of the introductory text in the acclaimed Nutrition Society Textbook Series, Introduction to Human Nutrition has been revised and updated to meet the needs of the contemporary student. Groundbreaking in their scope and approach, the titles in the series:
 Provide students with the required scientific basics of nutrition in the context of a systems and health approach
Enable teachers and students to explore the core principles of nutrition, to apply these throughout their training, and to foster critical thinking at all times. Throughout, key areas of knowledge are identified
Are fully peer reviewed, to ensure completeness and clarity of content, as well as to ensure that each book takes a global perspective
Introduction to Human Nutrition is an essential purchase for undergraduate and postgraduate students of nutrition/nutrition and dietetics degrees, and also for those students who major in other subjects that have a nutrition component, such as food science, medicine, pharmacy and nursing. Professionals in nutrition, dietetics, food science, medicine, health sciences and many related areas will also find much of great value within this book.
1. Introduction to Human Nutrition: A Global Perspective on Food and Nutrition.
H. H. Vorster
2. Body Composition.
P. Deurenberg
3. Energy Metabolism.
A. Astrup and A. Tremblay
4. Nutrition and Metabolism of Proteins and Amino Acids.
N. K. Fukagawa and Y. M. Yu
5. Digestion and Metabolism of Carbohydrates.
J. Mathers and T. Wolever
6. Nutrition and Metabolism of Lipids.
S. C. Cunnane and B. A. Griffin
7. Dietary Reference Standards.
K. M. Younger
8. The Vitamins.
D. A. Bender
9. Minerals and Trace Elements.
J. J. Strain and K. D. Cashman
10. Measuring Food Intake.
U. E. MacIntyre
11. Food Composition.
J. M. Holden and H. C. Schönfeldt
12. Food and Nutrition -Policy and Regulatory Issues.
M. J. Gibney and A. McKevitt
13. Nutrition Research Methodology.
J. A. Martínez and M. A. Martínez González
14. Food Safety: A Public Health Issue of Growing Importance.
A. Reilly, C. Tlustos, J. O'Connor and L. O'Connor
15. Food and Nutrition-Related Diseases: The Global Challenge.
H. H .Vorster and M. J. Gibney
"This book is absolutely essential reading for anyone interested in human nutrition and food. Its global perspective and variety of content ensure completeness, breadth and depth. The book was written by a leading international researchers in this field, making this book valid and reliable." (
International Journal of Therapy and Rehabilitation,
June 2010)


Facilitates absorption of information through 'key messages' at the start of each chapter

Designed to meet the needs of students of nutrition worldwide

Cross-referenced across the series to enable flow of learning

Written by a team of internationally renowned experts