Introduction to Information Systems, 6th Edition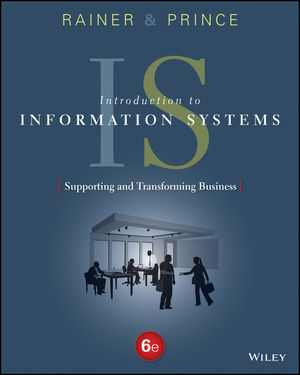 Introduction to Information Systems, 6th Edition
ISBN: 978-1-119-10798-9 September 2015 504 Pages
Description
The goal of Introduction to Information Systems is to teach all business majors, especially undergraduates, how to use information technology to master their current or future jobs and to help ensure the success of their organization. To accomplish this goal, this text helps students become informed users; that is, persons knowledgeable about information systems and information technology. The focus is not merely placed on learning the concepts of information technology, but rather on applying those concepts to facilitate business processes. The content concentrates on placing information systems in the context of business, so that students will more-readily grasp the concepts presented in the text. The theme of this book is What's In IT for Me? This question is asked by all students who take this course. The book will show you that IT is the backbone of any business, whether a student is majoring in Accounting, Finance, Marketing, Human Resources, or Production/Operations Management.
Chapter 1 Introduction to
Information Systems 1
Chapter 2 Organizational Strategy, Competitive Advantage, and Information Systems 31
Chapter 3 Ethics and Privacy 66
Chapter 4 Information Security 85
Chapter 5 Data and Knowledge Management 121
Chapter 6 Telecommunications and Networking 161
Chapter 7 E-Business and E-Commerce 197
Chapter 8 Wireless, Mobile Computing, and Mobile Commerce 229
Chapter 9 Social Computing 262
Chapter 10 Information Systems Within the Organization 293
Chapter 11 Customer Relationship Management and Supply Chain Management 320
Chapter 12 Business Analytics 355
Chapter 13 Acquiring Information Systems and Applications 380
Technology Guide 1 Hardware 409
Technology Guide 2 Software 424
Technology Guide 3 Fundamentals of Relational Database Operations 433
Technology Guide 4 Intelligent Systems 456
Index 470
• New or updated chapter openers, closing cases, and IT's About Business features.
• New appendix on Database Operations.
• NEW - WileyPLUS Learning Space (with ORION adaptive technology) brings new social functionality in addition to normal classroom management.
• Updated author videos for each section of the text. These video lectures (WPLS only) in particular will work well with the "flipping the classroom" trend. WileyPLUS Learning Space functionality and assets further support flipping the classroom experience.
• Co-author, Brad Prince, flips his own classroom and will be creating a brief instructor guide on using these new materials in this environment.
• What's in IT for me?: This instructor-praised feature demonstrates how IT topics relate to students in business majors such as Accounting, Finance, Marketing, Operations Management, MIS, and Human Resource Management. Chapter-opening "teasers" list specific tasks for each major that the chapter will help prepare students to do.
• IT's About Business: IT's About Business cases, several within every chapter, feature vivid examples from large corporations, small businesses, government, and not-for-profit organizations to show the connection between IT and business.
• Technology Guides: These guides offer additional material on technology topics not included in the main text and current hot topics in IT.
• Concise and Engaging: The chapters in this text provide what students need to know without overwhelming them with details.
• WileyPLUS Learning Space: WileyPLUS Learning Space provides instructors and students a dynamic learning environment in which to interact at the point of learning. Both students and instructors can utilize the system or bring in outside resources to aid in learning. Offering instructors a new methodology for engaging and assessing their students and/or flipping the classroom, this new system also allows students to take responsibility for their own learning.