Introduction to Information Systems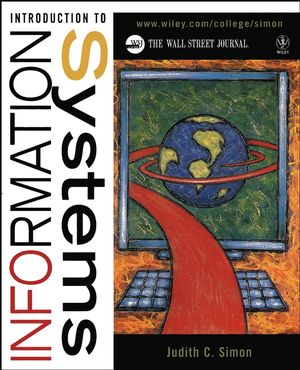 Introduction to Information Systems
ISBN: 978-0-471-39390-0
Jul 2000
352 pages
Description
Introduction to Information Systems provides the basics of information systems, a requirement for everyone working in various types of organizations today. Information technology is an extremely important and increasingly complex component of business and professional organizations. Decisions related to information technology and the related information systems can be a major factor influencing an organization's survival.
Managers at all levels must make decisions about which systems are best for specific situations. The personnel within organizations today must have an understanding of the role of information systems, as well as appropriate methods for using the technology effectively. Using this text with its companion Web site, along with the ten-week access to the Wall Street Journal Interactive Edition, provides an enhanced introduction to information systems.
OVERVIEW OF INFORMATION SYSTEMS.

Information Systems Overview.

Information Systems in Organizations.

ELECTRONIC COMMERCE AND RELATED TECHNOLOGIES.

Electronic Commerce and Internet Technologies.

Data Communications and Networking Considerations.

SOFTWARE AND HARDWARE STRATEGIES AND USES.

Applications Software for Businesses.

System Software Considerations.

Computer Components and Options.

DEVELOPMENT AND MANAGEMENT OF INFORMATION SYSTEMS.

Programming Languages.

Database Development and Management.

Systems Development Procedures.

Information Resource Management Strategies.

Index.
Additional Content on Website. The Web site contains additional content for each chapter; student quizzes, links to related business and vendor sites, and business cases.
Wall Street Journal Interactive Edition. The purchase of Introduction to Information Systems allows you ten weeks of access to the nation's most-respected business news service. Each chapter in this text has an Online Activities section tied to research activities using the Interactive Journal. Exploring this site for relevant topics raises awareness of the practical applications of information technology concepts.
Flexibility of Course Content. Students needing an emphasis only on basic content will be provided adequate materials, while other students who may need more thorough coverage of content, or a more extensive managerial emphasis, can find those materials at the Web site.
Advantages to Instructors include the quick feedback possible from student activities and quizzes, the use of content that can be updated much more quickly than is possible with a traditional text, and the use of activities that are often of more interest to students, without the need for the instructor to design the Web site. Instructors who have Internet access in their classrooms could choose to display materials from the Web site in class, reducing the amount of preparation needed for class materials.
Flexibility of Materials allows use at either the undergraduate or graduate level.
Order of concept presentation begins with topics that are most likely familiar to the reader or likely to be related to known topics. The order of presentation also allows the reader to move from the more external or computer-user topics to the more internal or system development and management concepts.
The Web Companion features:

Additional content for each chapter
Student quizzes
Links to related business and vendor sites
Business cases
Interactive Journal Access
Interactive Journal Research Activities