Introduction to Management, 12th Edition International Student Version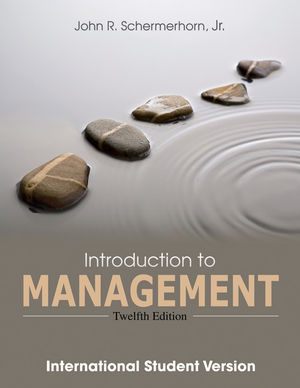 Introduction to Management, 12th Edition International Student Version
Product not available for purchase
Description
We've got you covered for Principles of Management with John Schermerhorn's Introduction to Management 12th Edition. From new cases and self-assessments to the Fast Company Video Series and Management Weekly Updates, the text and its comprehensive suite of resources promote critical thinking and active learning.
Thoroughly updated while maintaining its trusted, balance of concepts and applications, Introduction to Management 12th Edition allows you to present the most current material, help students apply theory and show relevance of management concepts in the real world—so your student will succeed in your course and beyond.
Part One Management
1 The Management Process 2
2 History of Management Thought 32
3 Ethical Behavior and Social Responsibility 56
Part Two Environment
4 External Environment and Organizational Culture 84
5 International Management 106
6 Entrepreneurship and Small Business Management 134
Part Three Planning and Controlling
7 The Decision-Making Process 160
8 Fundamentals of Planning 192
9 Fundamentals of Control 216
10 The Strategic Management Process 238
Part Four Organizing
11 Fundamentals of Organizing 268
12 Organizational Change and Development 294
13 Human Resource Management 320
Part Five Leading
14 Essentials of Leadership 350
15 Foundations of Individual Behavior 376
16 Motivation Th eory and Practice 402
17 Teams and Teamwork 430
18 Communication, Conflict and Negotiation 458
Management Cases for Critical Thinking
Chapter Cases C-1
Self-Test Answers AN-1
Glossary G-1
Endnotes EN-1
Organizational Index OI-1
Name Index NI-1
Subject Index SI-1
New coverage of leading topics in management, including sustainability and the environment, innovation, social networking, ethical decision making and leadership.
New Facts to Consider feature provides a brief summary of interesting research data on management topics—like corruption, office romances and job satisfaction—that stimulate critical inquiry and offer fuel for class discussions and debates.
New Career Situations encourage students to apply chapter content to common early-career scenarios.
New Management Cases for Critical Thinking present contemporary and timely organizations and managers to promote analysis, discussion, problem solving, and further research.
Critical Thinking and Active Learning: From Ethics on the Line, Facts for Analysis to Management Cases for Critical Thinking, special chapter features engage students in timely examples, current events, and applications of chapter material.
Integrated learning model: helps students read and study for exams, apply concepts and theories and discover how management issues to current events that affect everyday living.
Self Reflection: A variety of opportunities for self-reflection exist in the text, especially with Learning About Yourself, the Management Skills and Competencies, Further Reflection questions, Self-Assessments, Team Exercises and Career Situations to apply chapter content to common early-career situations, and a Case Study for analysis to further deepen self awareness.
Pedagogical foundations based on constructive balances of pedagogy:
 o  Balance of research insights with formative education.
 o  Balance of management theory with management practice.
 o  Balance of present understandings with future possibilities.
 o  Balance of what "can" be done with what is, purely and simply, the "right" thing to do.