Introduction to Modern Photogrammetry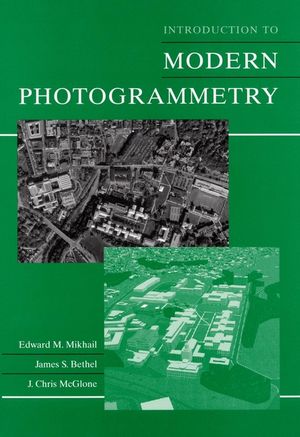 Introduction to Modern Photogrammetry
ISBN: 978-0-471-30924-6
Mar 2001
496 pages
Description
This text is designed to give students a strong grounding in the mathematical basis of photogrammetry while introducing them to related fields, such as remote sensing and digital image processing.
Suitable for undergraduate photogrammetry courses typically aimed at junior and senior students, and for graduate-level courses at the Master's level. Excellent reference for those working in related fields.
Introductory Concepts.
Elementary Photogrammetry.
Photogrammetric Sensing Systems.
Mathematical Concepts in Photogrammetry.
Resection, Intersection, and Triangulation.
Digital Photogrammetry.
Photogrammetric Instruments.
Photogrammetric Products.
Close-Range Photogrammetry.
Analysis of Multispectral and Hyperspectral Image Data.
Active Sensing Systems.
Appendix A: Mathematics for Photogrammetry.
Appendix B: Least Squares Adjustment.
Appendix C: Linearization of Photogrammetric Condition Equations.
Appendix D: Mathematical Description of Linear Features.
Appendix E: Further Consideration of the Rotation Matrix.
Apendix F: Orbital Photogrammetry.
Appendix G: Software for Photogrammetric Applications.
Index. 
Photogrammetric programs included with book. By providing example programs, technology issues within the market are addressed and gives the student the chance to run standard operations easily.
Photogrammetric website. Links to general photogrammetric resources will be provided, including photogrammetric societies, academic institutions, photogrammetric equipment manufacturers, mapping and GIS companies and to image and map data sources.