Introduction to Particle Technology, 2nd Edition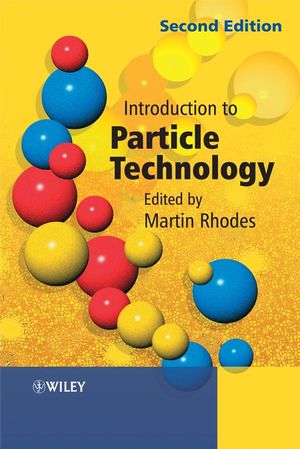 Introduction to Particle Technology, 2nd Edition
ISBN: 978-0-470-01427-1 June 2008 472 Pages
Description
Particle technology is a term used to refer to the science and technology related to the handling and processing of particles and powders. The production of particulate materials, with controlled properties tailored to subsequent processing and applications, is of major interest to a wide range of industries, including chemical and process, food, pharmaceuticals, minerals and metals companies and the handling of particles in gas and liquid solutions is a key technological step in chemical engineering.

This textbook provides an excellent introduction to particle technology with worked examples and exercises. Based on feedback from students and practitioners worldwide, it has been newly edited and contains new chapters on slurry transport, colloids and fine particles, size enlargement and the health effects of fine powders. Topics covered include:
Characterization (Size Analysis)
Processing (Granulation, Fluidization)
Particle Formation (Granulation, Size Reduction)
Storage and Transport (Hopper Design, Pneumatic Conveying, Standpipes, Slurry Flow)
Separation (Filtration, Settling, Cyclones)
Safety (Fire and Explosion Hazards, Health Hazards)
Engineering the Properties of Particulate Systems (Colloids, Respirable Drugs, Slurry Rheology)
This book is essential reading for undergraduate students of chemical engineering on particle technology courses. It is also valuable supplementary reading for students in other branches of engineering, applied chemistry, physics, pharmaceutics, mineral processing and metallurgy. Practitioners in industries in which powders are handled and processed may find it a useful starting point for gaining an understanding of the behavior of particles and powders.
Review of the First Edition taken from High Temperatures - High pressures 1999 31 243 – 251
"..This is a modern textbook that presents clear-cut knowledge. It can be successfully used both for teaching particle technology at universities and for individual study of engineering problems in powder processing."   

About the Contributors.
Preface to the Second Edition.
Preface to the First Edition.
Introduction.
1. Particle Size Analysis.
2. Single Particles in a Fluid.
3. Multiple Particle Systems.
4. Slurry Transport.
5. Colloids and Fine Particles.
6. Fluid Flow Through a Packed Bed of Particles.
7. Fluidization.
8. Pneumatic Transport and Standpipes.
9. Separation of Particles from a Gas: Gas Cyclones.
10. Storage and Flow of Powders-Hopper Design.
11. Mixing and Segregation.
12. Particle Size Reduction.
13. Size Enlargement.
14. Health Effects of Fine Powders.
15. Fire and Explosion Hazards of Fine Powders.
16. Case Studies.
Notation.
References.
Index
New chapters on slurry transport, colloids and fine particles, size enlargement and the health effects of fine powders

For the second edition the original author, Martin Rhodes, has joined forces with other contributors

The text has been completely revised with new chapters added 
"It is well written and pedagogical.... Appreciable are the efforts to enrich each chapter with examples which help the reader to better understand the argument and to evaluate what he/she has learned. 'Introduction to Particle Technology' is a book surely recommendable." (Materials and Manufacturing Process, Volume 24, Issue 6)
Provides case studies and real-life industrial applications illustrating the techniques and theory

Includes coverage of key topics such as Characterization (size analysis); Processing (fluidized beds, granulation); Particle formation (granulation, size reduction); Fluid-particle separation (filtration, settling, gas cyclones); Health effects; and Transport (pneumatic transport and standpipes)

Additional teaching material such as simulations and solution manual are available