Introduction to Personality: Toward an Integrative Science of the Person, 8th Edition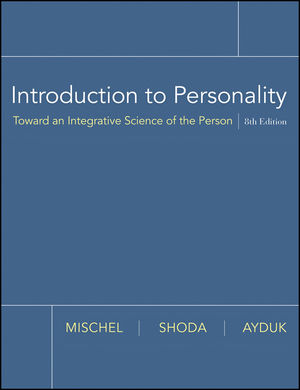 Introduction to Personality: Toward an Integrative Science of the Person, 8th Edition
ISBN: 978-0-470-47053-4 March 2009 594 Pages
Description
This Eighth Edition reflects the new developments within personality psychology, and gives the student a picture of the field as a cumulative, integrative science that builds on its rich past and now allows a much more coherent view of the whole functioning individual in the social world. This revision, subtitled:
Toward an Integrative Science of the Person
, is committed to making that integration, and its practical applications and personal relevance to everyday life, even more clear and compelling for our students.
In this new edition the focus is placed on distilling how findings at each of the six major levels of analysis of personality (trait-disposition, biological, psychodynamic-motivational, behavioral-conditioning, phenomenological-humanistic, and social-cognitive) still speak to and inform each other, and how they add to the current state of the science and its continuing growth.
Table of contents
PREFACE AND TEXT ORGANIZATION v
ACKNOWLEDGMENTS ix
CHAPTER 1 ORIENTATION TO PERSONALITY 1
CHAPTER 2 DATA, METHODS, AND TOOLS 19
PART I THE TRAIT-DISPOSITIONAL LEVEL
CHAPTER 3 TYPES AND TRAITS 45
CHAPTER 4 THE EXPRESSIONS OF DISPOSITIONS 72
PART II THE BIOLOGICAL LEVEL
CHAPTER 5 HEREDITY AND PERSONALITY 95
CHAPTER 6 BRAIN, EVOLUTION, AND PERSONALITY 124
PART III THE PSYCHODYNAMIC MOTIVATIONAL LEVEL
CHAPTER 7 PSYCHODYNAMIC THEORIES: FREUD'S CONCEPTIONS 155
CHAPTER 8 PSYCHODYNAMIC APPLICATIONS AND PROCESSES 177
CHAPTER 9 POST-FREUDIAN PSYCHODYNAMICS 209
PART IV THE BEHAVIORAL-CONDITIONING LEVEL
CHAPTER 10 BEHAVIORAL CONCEPTIONS 245
CHAPTER 11 ANALYZING AND MODIFYING BEHAVIOR 270
PART V THE PHENOMENOLOGICAL HUMANISTIC LEVEL
CHAPTER 12 PHENOMENOLOGICAL-HUMANISTIC CONCEPTIONS 297
CHAPTER 13 THE INTERNAL VIEW 323
PART VI THE SOCIAL COGNITIVE LEVEL
CHAPTER 14 SOCIAL COGNITIVE CONCEPTIONS 349
CHAPTER 15 SOCIAL COGNITIVE PROCESSES 379
PART VII INTEGRATION OF LEVELS: THE PERSON AS A WHOLE
CHAPTER 16 THE PERSONALITY SYSTEM: INTEGRATING THE LEVELS 409
CHAPTER 17 SELF-REGULATION: FROM GOAL PURSUIT TO GOAL ATTAINMENT 437
CHAPTER 18 PERSONALITY IN ITS SOCIAL CONTEXT AND CULTURE 466
GLOSSARY 492
REFERENCES 508
NAME INDEX 549
SUBJECT INDEX 559
New To This Edition
This extensive revision includes more than 25 percent of fresh material. The text has been updated and reorganized to reflect the continuing growth and transformation of personality psychology.
What's New
Comprehensive bullet point summaries end each chapter and overview-summary sections occur within chapters as needed.