Introduction to Plasma Technology: Science, Engineering, and Applications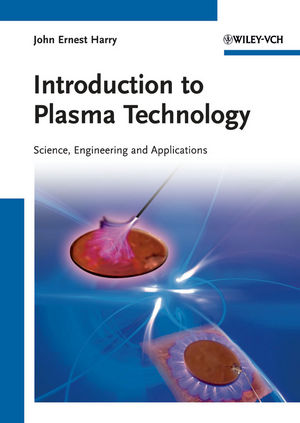 Introduction to Plasma Technology: Science, Engineering, and Applications
ISBN: 978-3-527-64370-7
Sep 2013
232 pages
Description
Written by a university lecturer with more than forty years experience in plasma technology, this book adopts a didactic approach in its coverage of the theory, engineering and applications of technological plasmas.
The theory is developed in a unified way to enable brevity and clarity, providing readers with the necessary background to assess the factors that affect the behavior of plasmas under different operating conditions. The major part of the book is devoted to the applications of plasma technology and their accompanying engineering aspects, classified by the various pressure and density regimes at which plasmas can be produced. Two chapters on plasma power supplies round off the book.
With its broad range of topics, from low to high pressure plasmas, from characterization to modeling, and from materials to components, this is suitable for advanced undergraduates, postgraduates and professionals in the field.

1. PLASMAS, AN OVERVIEW
Plasma Energy Distribution
Plasma Sheaths
The Generalized Discharge Characteristic
Coupling Energy to a Plasma
Effect of Pressure
Frequency
Magnetic Fields

2. ELASTIC AND INELASTIC COLLISION PROCESSES IN GASES
Elastic Processes
Excitation and Ionisation Processes

3. THE INTERACTION OF ELECTROMAGNETIC FIELDS WITH PLASMAS
Collective and Particle Behaviour of Plasmas
Charged Particles in Electromagnetic Fields
Behaviour of A Charged Particle in a Magnetic Field
The Defining Characteristics of a Plasma
Methods of Coupling Electrical Energy to Plasmas

4. APPLICATIONS OF LOW PRESSURE ELECTRIC DISCHARGES AND PLASMAS
Plasma Processes Used in Electronics Fabrication
Magnetically Enhanced Plasmas
The Cold Cathode Lamp
Barrier Discharges for Lamps and Lasers and Plasma Screens
Gas Lasers
Molecular Lasers
Electron and Ion Beams
Glow Discharge Nitriding

5. ATMOSPHERIC PRESSURE DISCHARGES
The Townsend Discharge
Corona Discharges
Corona Discharges on Power Lines
Corona Used for Water Treatment
Electrostatic Charging Processes
Dielectric Barrier Discharges
Partial Discharges
Surface Discharges
The Atmospheric Pressure DC Glow Discharge

6. ARC PROCESSES
Arc Welding
Electric Arc Melting
Arc Gas Heaters
Electrodeless Discharges
High Pressure Discharge Lamps
Ion Lasers
Switchgear
Effect of Lightning on Overhead Lines
Magnetohydrodynamic Power Generation
Generation of Electricity by Nuclear Fusion
Natural Phenomena
Applications in Space Research

7. DIAGNOSTIC METHODS AND MODELLING
Probe Methods
Interferometry
Spectroscopic Methods
Scattering Measurements

8. PLASMA AS A CIRCUIT ELEMENT: THE PLASMA CHARACTERISTIC

9. ELECTRICAL POWER SUPPLIES AND INSTRUMENTATION
Stabilisation at the Operating Point
The Transformer
Rectification
Instrumentation
Safety

10. ENGINEERING MATERIALS AND COMPONENTS
Electrodes
Insulators
Gases
Optical Materials
Vacuum Pumps and Instrumentation
Gas Supplies and Instrumentation
Water Cooling and Instrumentation