Introduction to Potable Water Treatment Processes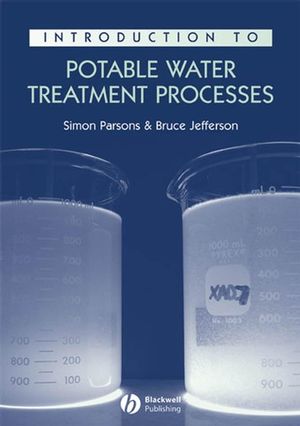 Introduction to Potable Water Treatment Processes
ISBN: 978-1-405-12796-7
Jun 2006, Wiley-Blackwell
190 pages
Description
The availability of a reliable supply of water is one of the most important determinants of human health, with the supply of clean drinking water being a multibillion dollar industry in the developed world and a key concern for less developed countries.

Introduction to Potable Water Treatment Processes illustrates the link between raw water quality and treatment process selection and performance. Individual chapters concentrate on specific water treatment processes, detailing the chemical and engineering principles behind the process, and further illustrating process implementation by the use of process flow diagrams, photographs and case studies. The final three chapters look specifically at the removal of organic and inorganic contaminants and at the treatment and disposal of sludge. With introductory chapters covering both UK/European legislation and WHO guidance, and a general introduction to process flow diagrams, Introduction to Potable Water Treatment Processes is essential reading for anyone operating or managing a water treatment process, or carrying out research on water treatment processes.
1 WATER QUALITY REGULATIONS
.
1.1 INTRODUCTION.
1.2 WATER QUALITY REGULATIONS.
1.3 COMMON CONTAMINANTS.
1.4 REFERENCES.
2 WATER SOURCES AND DEMAND.
2.1 INTRODUCTION.
2.2 WATER CYCLE.
2.3 WATER SOURCES.
2.4 WATER DEMAND.
2.5 REFERENCES.
3 COAGULATION AND FLOCCULATION.
3.1 INTRODUCTION.
3.2 PROCESS SCIENCE.
3.3 COAGULATION.
3.4 FLOCCULATION.
3.5 APPLICATIONS.
3.6 TEST METHODS.
3.7 REFERENCES.
4 CLARIFICATION PROCESSES.
4.1 INTRODUCTION.
4.2 PROCESS SCIENCE.
4.3 TECHNOLOGY OPTIONS.
4.4 APPLICATIONS.
4.5 REFERENCES.
5 DISSOLVED AIR FLOTATION.
5.1 INTRODUCTION.
5.2 PROCESS SCIENCE.
5.3 TECHNOLOGY OPTIONS.
5.4 APPLICATIONS.
5.5 REFERENCES.
6. FILTRATION PROCESSES.
6.1 INTRODUCTION.
6.2 PROCESS SCIENCE.
6.3 TECHNOLOGY OPTIONS.
6.4 APPLICATIONS.
6.5 REFERENCES.
7 MEMBRANE PROCESSES.
7.1 INTRODUCTION.
7.2 PROCESS SCIENCES.
7.3 MEMBRANE INTEGRITY.
7.4 PROCESS DESCRIPTION.
7.5 REFERENCES.
8 ADSORPTION PROCESSES.
8.1 INTRODUCTION.
8.2 PROCESS SCIENCE.
8.3 ACTIVATED CARBON.
8.4 APPLICATIONS.
8.5 ADSORBERS.
8.6 OZONE/GAC.
8.7 REFERENCES.
9 DISINFECTION.
9.1 INTRODUCTION.
9.2 PROCESS SCIENCE.
9.3 CHLORINE.
9.4 CHLORAMINATION.
9.5 OZONE.
9.6 CHLORINE DIOXIDE.
9.7 ULTRAVIOLET LIGHT.
9.8 DISINFECTION BY-PRODUCTS.
9.9 REFERENCES.
10 ORGANICS REMOVAL.
10.1 INTRODUCTION.
10.2 DISINFECTION BY-PRODUCTS.
10.3 MICROPOLLUTANTS.
10.4 ALGAE.
10.5 TASTE AND ODOUR.
10.6 REFERENCES.
11 INORGANICS REMOVAL.
11.1 INTRODUCTION.
11.2 NITRATE.
11.3 BROMATE.
11.4 ARSENIC.
11.5 IRON AND MANGANESE.
11.6 FLUORIDE.
11.7 LEAD.
11.8 REFERENCES.
12 SLUDGE TREATMENT AND DISPOSAL.
12.1 INTRODUCTION.
12.2 SLUDGE CHARACTERISATION.
12.3 SLUDGE TREATMENT.
12.4 SLUDGE DISPOSAL.
12.5 REFERENCES.
Index
It is inexpensive, a good size to carry around and can be consulted in minutes.[The] chapters are excellent with good diagrams, photographs and summarising tables.
This is an excellent book, ideally suited to its purpose and it is already on our recommended reading list. We strongly recommend it as the best currently available.

'This is an excellent book, ideally suited to its purpose and it is already on our recommended reading list. We strongly recommend it as the best currently available.'

A. WHEATLEY, Loughborough University. Proceedings of ICE September 2006
* Provides a detailed introduction to a wide range of specific water treatment processes, providing the reader with a good knowledge of how the techniques work, what they achieve and how they can be implemented in a range of situations
* Contains detailed case studies which show how these processes have actually been employed in practice