Introduction to Semiconductor Materials and Devices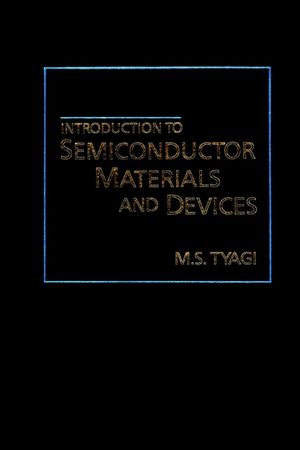 Introduction to Semiconductor Materials and Devices
ISBN: 978-0-471-60560-7 March 1991 688 Pages
Description
This comprehensive introduction to the elementary theory and properties of semiconductors describes the basic physics of semiconductor materials and technologies for fabrication of semiconductor devices. Addresses approaches to modeling and provides details of measurement techniques. Includes numerous illustrative examples and graded problems.
Table of contents
BASIC PHYSICS.

Review of Atomic Structure and Statistical Mechanics.

Crystalline Solids and Energy Bands.

FUNDAMENTALS OF SEMICONDUCTORS.

Semiconductor Materials and Their Properties.

Carrier Transport in Semiconductors.

Excess Carriers in Semiconductors.

JUNCTIONS AND INTERFACES.

p-n Junctions.

Static I-V Characteristics of p-n Junction Diodes.

Electrical Breakdown in p-n Junctions.

Dynamic Behavior of p-n Junction Diodes.

Majority Carrier Diodes.

SEMICONDUCTOR DEVICES.

Microwave Diodes.

Optoelectronic Devices.

Bipolar Junction Transistors I: Fundamentals.

Bipolar Junction Transistors II: Devices.

Junction and Metal-Semiconductor Field-Effect Transistors.

MOS Transistors and Charge-Coupled Devices.

Circuit Models for Transistors.

Power Rectifiers and Thyristors.

SEMICONDUCTOR TECHNOLOGY AND MEASUREMENTS.

Technology of Semiconductor Devices and Integrated Circuits.

Semiconductor Measurements.

Appendices.

Answers to Selected Problems.

Index.