Introduction to Sociological Theory: Theorists, Concepts, and their Applicability to the Twenty-First Century, eTextbook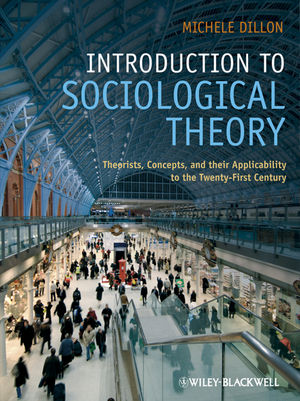 Introduction to Sociological Theory: Theorists, Concepts, and their Applicability to the Twenty-First Century, eTextbook
ISBN: 978-1-444-32604-8 June 2011 Wiley-Blackwell 576 Pages
Description
Combining carefully chosen primary quotes with extensive discussion and everyday illustrative examples, this book provides an in-depth introduction to classical and contemporary theory.
Uses a wide range of newspaper examples to illustrate the relevance to sociological theory
Contains excerpts from theorists' primary texts
Includes chapter-specific glossaries of all theoretical concepts discussed in the book
Short biographies and historical timelines of significant events provide context to various theorists' ideas
Incorporates a range of pedagogical features
Supporting website includes multiple choice and essay questions, PowerPoint slides, a quotation bank, and other background materials
Visit www.wiley.com/go/dillon for additional student and instructor resources.
Table of contents
List of Timelines, Boxes, and Topics.
Acknowledgments.
How to Use This Book.
Introduction: Welcome to Sociological Theory.
Analyzing Social Life.
Societal Transformation and the Origins of Sociology.
The Establishment of Sociology.
The Sociological Craft in the Nineteenth Century.
Summary.
Glossary.
1. Karl Marx.
Expansion of Capitalism.
Marx's Theory of History.
Human Nature.
Capitalism as a Distinctive Social Form.
Wage-Labor.
The Division of Labor and Alienation.
Economic Inequality.
Ideology and Power.
Summary.
Glossary.
2. Emile Durkheim.
Durkheim's Methodological Rules.
The Nature of Society.
Societal Transformation and Social Cohesion.
Traditional Society.
Modern Society.
Social Conditions of Suicide.
Religion and the Sacred.
Summary.
Glossary.
3. Max Weber.
Sociology: Understanding Social Action.
Culture and Economic Activity.
Ideal Types.
Social Action.
Power, Authority, and Domination.
Social Stratification.
Modernity and Competing Values.
Summary.
Glossary.
4. Structural-Functionalism: Talcott Parsons and Robert Merton.
Talcott Parsons.
The Social System.
Socialization and Societal Integration.
Social Differentiation, Culture, and the Secularization of Protestantism.
Pattern Variables.
Modernization Theory.
Stratification and Inequality.
Robert Merton's Middle-Range Theory.
Summary.
Glossary.
5. The Frankfurt School: Technology, Culture, and Politics.
Dialectic of Enlightenment.
Mass Culture and Consumption.
Politics: One-Dimensional Rationality.
Jurgen Habermas: The State and Society.
Summary.
Glossary.
6. Conflict, Power, and Dependency in Macro-Societal Processes.
Ralf Dahrendorf's Theory of Group Conflict.
C. Wright Mills.
Dependency Theory: Neo-Marxist Critiques of Economic Development.
Summary.
Glossary.
7. Exchange, Exchange Network, and Rational Choice Theories.
Exchange Theory.
Exchange Network Theory.
Rational Choice Theory.
Analytical Marxism.
Summary.
Glossary.
8. Symbolic Interactionism.
Development of the Self through Social Interaction.
The Premises of Symbolic Interactionism.
Erving Goffman: Social Exchange as Ritualized Social Interaction.
Symbolic Interactionism and Ethnographic Research.
Summary.
Glossary.
9. Phenomenology and Ethnomethodology.
Phenomenology.
Ethnomethodology.
Summary.
Glossary.
10. Feminist Theories.
Consciousness of Women's Inequality.
Standpoint Theories1: Dorothy Smith and the Relations of Ruling.
Standpoint Theories 2: Patricia Hill Collins – Black Women's Standpoint.
Sociology of Emotion.
Arlie Hochschild: Emotional Labor.
Summary.
Glossary.
11. Theorizing Sexuality and the Body.
Michel Foucault.
Sexuality and Queer Theory.
Summary.
Glossary.
12. Sociological Theories of Race and Racism.
Racial Otherness.
Social Change, Race, and Racism.
Slavery, Colonialism, and Racial Formation.
William Du Bois: Slavery and Racial Inequality in the US.
Race and Class.
Race, Community, and Democracy.
Culture and the New Racism.
Summary.
Glossary.
13. The Social Reproduction of Inequality: Pierre Bourdieu's Theory of Class and Culture.
Social Stratification.
Family and School in the Production of Cultural Capital.
Taste and Everyday Culture.
Summary.
Glossary.
14. Postmodernity.
Critique of the Modern.
Postmodern Culture.
Summary.
Glossary.
15. Globalization.
Defining Globalization.
Economic Globalization.
Immanuel Wallerstein: The Modern World-System.
From World-Economic to Global Inequality.
Political Globalization: The Nation-State in the New Order.
Cultural Globalization.
Cities and Migration in a Globalizing Society.
Globalization of Risk.
Political Mobilization in the Globalizing Society.
Summary.
Glossary.
Glossary.
References.
Index.
Features
Uses a wide range of current newspaper examples to illustrate the relevance and applicability of classical and contemporary sociological theory

Contains excerpts from theorists' primary texts

Includes chapter-specific glossaries of all theoretical concepts discussed in the book

Short biographies and historical time-lines of significant events provide context to various theorists' ideas 

Incorporates a range of pedagogical features

Supporting website includes multiple choice and essay questions, PowerPoint slides, a quotation bank, and other background materials