Introduction to Structural Analysis & Design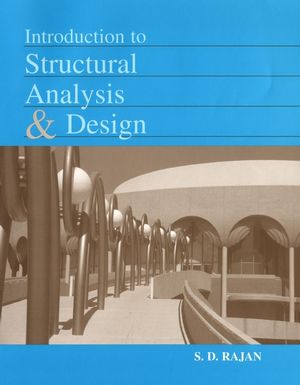 Introduction to Structural Analysis & Design
ISBN: 978-0-471-31997-9 October 2000 720 Pages
Description
This book is a comprehensive introduction to the principles of structural analysis and structural design. Emphasizing fundamental concepts, the author reinforces ideas through a combination of limited versatile classical techniques and numerical methods. The discussion of structural analysis and structural design including optimum design are strongly linked through an abundance of analysis and design examples. The addition of computer software enhances the understanding of the engineering principles as well as the learning of the use of computer-based tools.
Table of contents
Determinate Structural Systems.

Structural Design Fundamentals.

Computation of Deflections.

Indeterminate Structural Systems.

Matrix-Based Numerical Methods of Structural Analysis.

Computer-Based Structural Analysis.

Optimum Structural Design.

Design of Steel and Concrete Structures.

Bibliography.

Answers to Selected Problems.

Appendices.

Index.
Features
Emphasis on a limited number of powerful classical techniques along with an early transition from classical to numerical techniques.
Early introduction of computer modeling and usage so students can check hand-calculations with computer results.
Computation of a variety of code-based structural loads such as dead, live, wind, snow, and rain loads.
Clearly presents the strong link between structural analysis and design. Design exercises in the text are based on the same problems that students work out in the analysis section.
Covers important topic of code-based steel and concrete design in a time-limited curriculum.
Discussion of advanced topics of finite element and design optimization prepares students for the next level or more advanced courses.
Formal design problem formulation to solve one-parameter and multi-parameter design problems.
Includes the study of material behavior, structural performance considerations, and appropriate theories of failure.
Early use of commercial grade structural analysis and design software.