Introduction to Veterinary and Comparative Forensic Medicine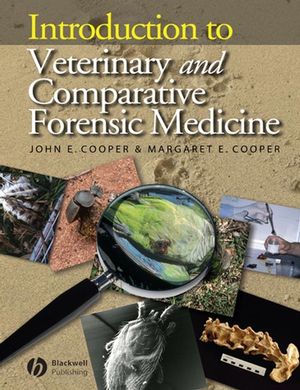 Introduction to Veterinary and Comparative Forensic Medicine
ISBN: 978-0-470-75292-0 April 2008 Wiley-Blackwell 432 Pages
Description
Introduction to Veterinary and Comparative Forensic Medicine is a ground-breaking book in an emerging new speciality. It reflects the increasing demand for expert opinion by veterinarians and others in courts of law and elsewhere on such matters as:


· wildlife conservation,


· welfare of, and alleged cruelty to, animals,


· insurance, certification and malpractice


· the identification of live and dead species or their derivatives.


It also discusses and analyses current concern over possible links between domestic violence and abuse of animals. Throughout the book the emphasis is on the need for a systematic and thorough approach to forensic work. A particular feature is practical advice, with protocols on dealing with common problems, together with case studies, various appendices and an extensive bibliography.


A vital reference for members of the veterinary profession, lawyers, enforcement bodies and welfare and conservation organisations. The comparative aspects provide an important source of information for those working in human forensic medicine and the biological sciences.
Dedication.
Foreword.
Authors' Preface.
Part I: Introduction:.
1. What is forensic medicine?.
2. The special features of veterinary and comparative forensic medicine.
3. The importance and application of animal law.
Part II: Particular Types of Case:.
4. Animal welfare.
5. Conservation and wildlife crime.
Part III: Methodology:.
6. Clinical work.
7. Post-mortem examinations.
8. Laboratory investigations.
9. Site visits and collection of evidence.
10. Collation and analysis of findings and record-keeping.
11. Storage, labelling and presentation of material.
12. Serving as a witness and appearing in court.
13. The future.
Appendix A. Submission and report forms – carcasses, tissues and laboratory samples.
Appendix B. Useful addresses and sources of information.
Appendix C. Glossary of terms.
Appendix D. Some case studies, demonstrating approach and techniques.
Appendix E. Journals, societies and organisations.
Appendix F. Scientific names of species in text.
References and Further Reading.
Index
"The text is well illustrated with 157 illustrations, including eight pages of color plates. The authors... [have a] unique insight and experience in forensic pathology.... this book will be applicable fo many veterinary practitioners throughout Europe and North America.... this is a useful text... which can serve as an excellent starting point and reference."-
Veterinary Pathology
"This book... is much more than an introduction. It is, in every sense, a textbook. Indeed, it is truly a tome... plentifully illustrated and truly weighty, since it it is packed to overflowing with well established, but previously hard to find, facts and references.... a valued reference text, not only for those closely involved with cruelty work but also as an indispensable guide for general veterinary practitioners in their day-to-day work." - Veterinary Record
"It is clear that the authors... achieved their goal... the perfect team to produce a book on veterinary forensic science. Their lifetime experience and dedication to work on forensics and wildlife is reflected in the pages of this text.  The uncomplicated language, with rare use of technical jargon, the easy flow of text, the short sections and the synthesis of information in tables and figures - adding clarity to the interrelation of concepts - make this book easily comprehensible.... Plenty of discussion is dedicated to particular situations, culture, ways of thinking and attitudes towards animals in many parts of the world. Of great value is the comprehensive list of international references, which is extremely up-to-date and also includes items published centuries ago. Readers... are provided with a profound insight into the general aspects and diversity of disciplines involved in forensic medicine. This book serves the purpose of providing a comprehensive overview and, indeed an excellent introduction to veterinary and comparative forensic medicine." - Animal Welfare


A groundbreaking book in an emerging new speciality;

The only book of its kind dealing with all groups of animals and other comparative aspects;

Covers issues including animal welfare, conservation, wildlife crime, clinical examinations, necropsy, site visits, human/animal abuse and appearance in court;

A vital reference for members of the veterinary profession, lawyers, enforcement bodies and welfare and conservation organizations;

An important step forward in the evolution of animal forensics as an academic discipline.