Introduction to the Human Body, 10th Edition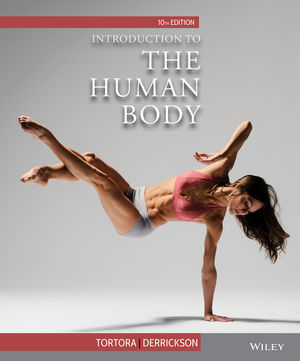 Introduction to the Human Body, 10th Edition
ISBN: 978-1-118-88413-3 December 2014 640 Pages
Description
Introduction to the Human Body 10th Edition offers a balanced introduction to the human body, especially developed to meet the needs of the one-semester A&P course. It provides an effective blend of stunning art and clearly written text to illuminate the complexities of the human body. Class-tested pedagogy is woven into the narrative and illustrations to ensure that students gain a solid understanding of the material.
1 ORGANIZATION OF THE HUMAN BODY 1
2 INTRODUCTORY CHEMISTRY 22
3 CELLS 41
4 TISSUES 68
5 THE INTEGUMENTARY SYSTEM 92
6 THE SKELETAL SYSTEM 107
7 JOINTS 154
8 THE MUSCULAR SYSTEM 170
9 NERVOUS TISSUE 220
10 CENTRAL NERVOUS SYSTEM, SPINAL NERVES, AND CRANIAL NERVES 236
11 AUTONOMIC NERVOUS SYSTEM 261
12 SOMATIC SENSES AND SPECIAL SENSES 271
13 THE ENDOCRINE SYSTEM 299
14 THE CARDIOVASCULAR SYSTEM: BLOOD 326
15 THE CARDIOVASCULAR SYSTEM: HEART 342
16 THE CARDIOVASCULAR SYSTEM: BLOOD VESSELS AND CIRCULATION 360
17 THE LYMPHATIC SYSTEM AND IMMUNITY 391
18 THE RESPIRATORY SYSTEM 415
19 THE DIGESTIVE SYSTEM 440
20 NUTRITION AND METABOLISM 469
21 THE URINARY SYSTEM 485
22 FLUID, ELECTROLYTE, AND ACID–BASE BALANCE 503
23 THE REPRODUCTIVE SYSTEMS 515
24 DEVELOPMENT AND INHERITANCE 544
ANSWERS A-1
GLOSSARY G-1
CREDITS C-1
INDEX I-1
New to the Text:
Content has been updated throughout, with new or heavily revised sections on buffers and disease, cryolipolysis, epiphyseal plate, and control of breathing.
New or revised art and photos have been added to most chapters.
Clinical Connections are new or updated throughout the text.
Heart illustrations in chapter 15 are all new.
Anatomical terminology has been updated throughout the text.
New in WileyPLUS Learning Space:
NEW 3-D physiological animations have been added to the WileyPLUS Learning Space course.
Three NEW lab simulations have been added to PowerPhys.
Real Anatomy 2.0 and PowerPhys 3.0 are now integrated into WileyPLUS Learning Space and supported on tablets.
WileyPLUS Learning Space is an easy way for students to learn, collaborate, and grow. With WileyPLUS Learning Space, students create a personalized study plan, assess progress along the way, and make deeper connections as they interact with the course material and each other.
WileyPLUS Learning Space also includes ORION—integrated, adaptive practice that helps students build their proficiency on topics and use their study time most effectively.
This collaborative learning environment provides immediate insight into strengths and problem areas through a combination of dynamic course materials and visual reports so that both you and your students can act on what's most important.
Real Anatomy 2.0 is web-based 3-D imaging software that allows students to dissect through over 40 layers of a real human body to study the anatomical structures of all body systems. The software is web-based and integrated in WileyPLUS Learning Space along with worksheets and questions designed to optimize student use.