Introductory Macroeconomics, 1st Australian Edition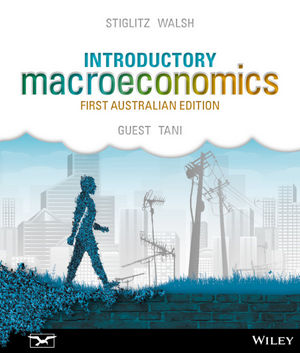 Introductory Macroeconomics, 1st Australian Edition
ISBN: 978-1-742-16564-6
Aug 2014
408 pages
Product not available for purchase
Description
Introductory Macroeconomics, 1st Australian edition is an adaptation of an original work by internationally renowned economists Joseph Stiglitz and Carl Walsh. The adapting Australian author team has contextualised the content to suit the needs of Australian university students. Key macroeconomics concepts are explained using the latest theory and research, with data relevant to the Australian economy. Throughout the text, these concepts are applied to contemporary local economic issues for businesses and individuals, such as:
the Australian dollar
the mining industry
budget deficits
intergenerational equity
taxation
interest rates
unemployment
skills shortages and temporary work visas
international financial markets
international trade
globalisation.
In addition to a thorough analysis of the contemporary macroeconomic landscape in Australia, the text provides useful international comparisons with economies in Asia and Europe, as well as that of the United States.
At a concise 13 chapters, this textbook is an ideal resource for a one-semester university course in introductory macroeconomics. 
About the authors ix

Applications at a glance xii

Preface xiv

Accompanying resources xv

How to use this book xvi

Acknowledgements xix

Chapter 1 Introduction 1

Chapter 2 Output, unemployment and inflation 33

Chapter 3 Full employment and productivity growth 73

Chapter 4 Deficits, debt and the open economy 109

Chapter 5 Introduction to business cycles 143

Chapter 6 Aggregate demand and inflation 181

Chapter 7 The Reserve Bank and interest rates 211

Chapter 8 Stabilisation policies 227

Chapter 9 Inflation and unemployment 257

Chapter 10 International economics: an introduction 279

Chapter 11 The international financial system 303

Chapter 12 Economic development 325

Chapter 13 Macroeconomics and you 347

Glossary 375

Index 383
Case in point vignettes highlight real-world applications in each chapter that are particularly relevant to Australia's economy.
International perspective boxes examine the application of economic concepts in other parts of the world, providing a useful basis for comparison with Australia.
Counter point boxes provide real-world alternative viewpoint to highlight the complexity of certain macroeconomic issues
Thinking like an economist boxes encourage students to analyse a contemporary issue from the perspective of an economist.
Critical thinking questions appear throughout the text to facilitatestudent analysis,discussion and debate of economic issues and dilemmas.