Introductory Mathematics for Engineering Applications, Preliminary Edition, Revised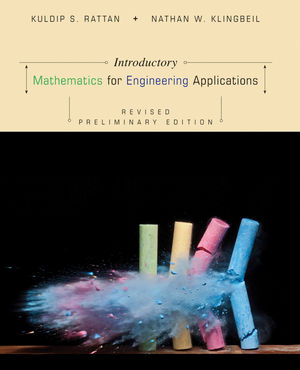 Introductory Mathematics for Engineering Applications, Preliminary Edition, Revised
ISBN: 978-1-118-46616-2
Sep 2012
460 pages
Product not available for purchase
Description
Rattan and Klingbeil's Introductory Mathematics for Engineering Applications is designed to help improve engineering student retention and success through application-driven, just-in-time engineering math instruction. It is intended to be taught by engineering faculty, not math faculty, so the emphasis is on using math to solve engineering problems, not on derivations and theory.
The book is a product of several major grants to develop and disseminate a new approach to engineering mathematics education. The authors have developed a course that does just this, and faculty at more than two dozen institutions have piloted aspects of this course in their own curricula.  This approach covers only the salient math topics actually used in core engineering courses, including physics, statics, dynamics, electric circuits and computer programming.  More importantly, the course replaces traditional math prerequisites for the above core courses, so that students can advance in the engineering curriculum without first completing the required calculus sequence.  The result has shifted the traditional emphasis on math prerequisite requirements to an emphasis on engineering motivation for math, and has had an overwhelming impact on engineering student retention.
Just-in-time presentation of engineering math concepts.
Applications-driven presentation provides motivation for engineering math by using realistic engineering problems.
Designed to be taught by engineering faculty, not math faculty.
Can serve as a primary text for a first-year engineering math course allowing students to advance without first completing the required calculus sequence.
This course doesn't replace calculus. It simply allows students to advance through introductory engineering courses while they gain the maturity and motivation to succeed in calculus at a slower pace.