Inventing the American Woman: An Inclusive History, Volume 2: Since 1877, 4th Edition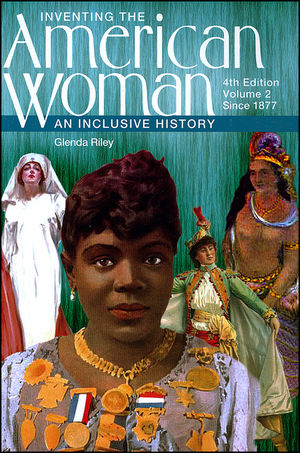 Inventing the American Woman: An Inclusive History, Volume 2: Since 1877, 4th Edition
ISBN: 978-0-882-95251-2
Jan 2007, Wiley-Blackwell
525 pages
Description
When the first edition of this groundbreaking survey of U.S. women's history first appeared in 1986, no one could have predicted its spectacular success and widespread support—or the vast proliferation of women's history courses in the nation's high schools, colleges, and universities.
Informed by the generous feedback of many of "Inventing"'s loyal users—student readers and instructors from every region of the nation—the fourth edition of Glenda Riley's dynamic text remains the most inclusive, accessible, and affordable choice as a core text for the Women's History course, as well as useful supplementary reading for courses in Women's Studies and the U.S. survey.
Completely up to date, with expanded coverage of women in the military, sports, women's healthcare, divorce, and women of color—especially Spanish-speaking, American Indian, African American, and Asian American women—this well-balanced, interpretive account portrays the myriad of women's experiences as they shaped and were shaped by American history, and redounds as a remarkable feat of insight and inclusion. As always, each volume features a stunning photographic essay, a visual account from the colonial era to the present.
Introduction: Gender Expectations Across Cultures ix
Chapter Six "Reordering Woman's Sphere": The Gilded Age and Progressive Era, 1878 to 1914 261

The Gilded Age, 1878 to 1890 262
Reform during the Progressive Era, 1890 to 1914 271
Employed Women during the Progressive Era, 1890 to 1914 288
The New South during the Progressive Era, 1890 to 1914 297
The New West during the Progressive Era, 1890 to 1914 299
Study Guide 308
Suggestions for Further Reading 309
Chapter Seven The "New Woman": World War I and the "Roaring Twenties," 1914 to 1929 319

Women during World War I, 1914 -1918 319
Woman Suffrage Triumphant 329
Change and Continuity during the 1920s 340
Racial Issues 353
Study Guide 362
Suggestions for Further Reading 363
Chapter Eight "Making Do and Pitching In": The Great Depression and World War II, 1929 to 1945 370

The Great Depression of the 1930s 370
Life during the 1930s 386
World War II, 1941-1945 396
Survival of Regionalism during the Depression and World War II 407
Study Guide 412
Suggestions for Further Reading 413
Images and Realities (Photographs) Follow page 418 418
Chapter Nine The Feminine Mystique and Beyond, 1945 to 1965 419

Back-to-the-Home Movement of the Late 1940s and the 1950s 420
Beyond Suburbia: The Late 1940s and the 1950s 431
Emerging Feminism: The Early 1960s 443
Women's Lives: The Early 1960s 452
Study Guide 462
Suggestions for Further Reading 463
Chapter Ten Modern American Women: 1965 to the Present 468

The Feminist Movement, 1965-1985 469
Assessing Gains and Losses, 1965-1985 488
Since 1985 500
Study Guide 517
Suggestions for Further Reading 518
Conclusion: Looking Toward the Future 526
Index xii (follow page 530)
Praise for the 2nd edition:
"This is a wonderful set of two volumes on the history of American women, from the earliest colonial period to the 1990s. It is based on a wide variety of sources, and it is extensively documented. Anyone interested in the history of women in the United States should consult this important work." (The Historical Journal of Massachusetts, Summer 1995)