Inventorship: The Art of Innovation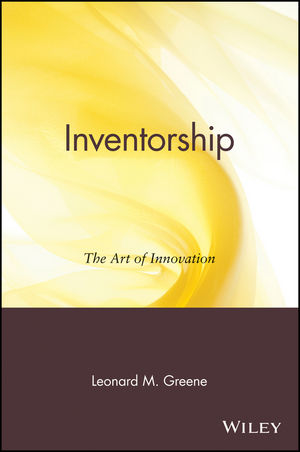 Inventorship: The Art of Innovation
ISBN: 978-0-471-20165-6
Mar 2002
256 pages
Description
""From this lively and personal account, we learn that we can all practice inventorship to great advantage-measured either in gold or pleasure, or perhaps both!""-From the Foreword by Walter Cronkite

""Inventorship is truly the stuff from which the future will be molded. Giving us an insight into the everyday thought processes of great inventive minds, Greene's wonderful collection of stories and ideas is a model for each of us in the art of inventiveness.""-Pat Hallberg, Executive Director, National Inventors Hall of Fame

""This entertaining and well-written work educates without pain and motivates the reader to learn more. It should be widely read not only by business people and entrepreneurs, but by young people, their parents, and their teachers. The lesson: Inventorship is for everyone and can change lives for the better.""-Joseph N. Hankin, President, Westchester Community College

""After all the scholarly books and articles about innovation and the entrepreneurial process by theorists, how refreshing it is to hear from a real live inventor holding hundreds of patents in fields as diverse as aeronautics, sailing, chess, and skiing! He has even invented a word, 'inventorship', to describe the process and guide us through dozens of examples. A very useful book.""-John Diebold, Chairman, The JD Consulting Group, Inc.
Foreword by Walter Cronkite.

Acknowledgments.

Introduction: Inventorship: The Art of Innovation.

The Nature of Inventorship.

The Age of Innovation.

The Rule of Inventorship.

Defining the Problem.

The Source of Inventive Solutions.

Mind over Machine.

Inventorship and Entrepreneurial Spirit.

Innovation in Public Policy.

Commitment: The Key to Successful Inventorship.

The Inventive Life.

Index.