Invest in Europe Now! : Why Europe's Markets Will Outperform the US in the Coming Years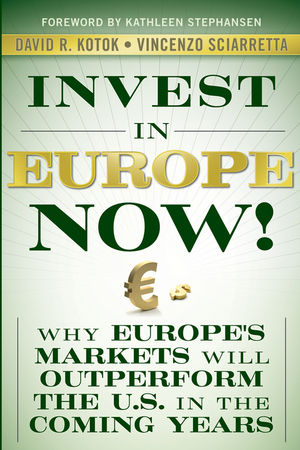 Invest in Europe Now! : Why Europe's Markets Will Outperform the US in the Coming Years
ISBN: 978-0-470-54701-4
Mar 2010
256 pages
Description
An insider's guide to investing in Europe
With the U.S. market in shambles, investors are looking for other places to put their money. Europe has become the destination of choice, and will continue to be for the foreseeable future.
Using the different perspectives of an author who lives in Europe and an author who lives in the United States, Invest in Europe Now! is one the most informative guides to making money outside North America. It outlines the best ways to take advantage of the rapidly shifting global financial environment and shows you what indicators to follow, what instruments and markets are best poised for growth, and how to avoid various pitfalls along the way.
Outlines the safest ways to invest in Europe and secure the returns you desire
Written by a unique author team, which represent both the U.S. and European perspective
Discusses how some European markets and stocks are relatively more attractive than their American counterparts
Throughout this book, David Kotok and Vincenzo Sciaretta reveal the realities of investing in Europe and how you can benefit from doing so.
Foreword.
Preface.
Acknowledgments.
Introduction.
Part I Macro Issues.
Chapter 1 Euro Versus Dollar.
Chapter 2 Convergence and Integration.
Chapter 3 Taxation.
Chapter 4 Stock Market Evolution.
Chapter 5 Accessing Europe with ETFs.
Part II Stock-Specific Strategies.
Chapter 6 Successful Strategies in the Eurozone.
Chapter 7 Valuation.
Chapter 8 Old Continent Stocks and the Super-Euro.
Part III The Guru Chapters.
Chapter 9 When It Is America That Diversifi es Out of the Dollar
An Interview with William Clark.
Chapter 10 Yes, Europe Is Cheaper than the United States (and the Gap Is Not Justifi ed any Longer)
An Interview with Felix Zulauf.
Chapter 11 Europe–Asia: The Promising Linkage
An Interview with Marc Faber.
Chapter 12 Eastern Europe: The Prognosis Looks Favorable
An Interview with Mark Mobius.
Chapter 13 Europe Is Moving Toward the Center-Right, the United States Toward the Left
An Interview with Edward Yardeni.
Chapter 14 For Now I Go with Continental Europe
An Interview with Ken Fisher.
Chapter 15 Looking for Gems in the Eurozone Bond Market
An Interview with Emanuele Ravano.
Chapter 16 The Path of Least Resistance Leads to a Stronger Euro and a Weaker Dollar
An Interview with Catherine Mann.
Chapter 17 Eurozone Stocks: When Optimism Prevails
An Interview with François-Xavier Chevallier.
Chapter 18 The Credit Crunch Fallout Is Dreadful Everywhere (but the Eurozone Can Survive)
An Interview with Bob McKee.
Notes.
About the Authors.
Index.
"In an era when American are perhaps more provincial than ever with their investments, 'Invest in Europe Now!' is a very useful addition to the literature." (Barron's, July 2010)