Investigating Gender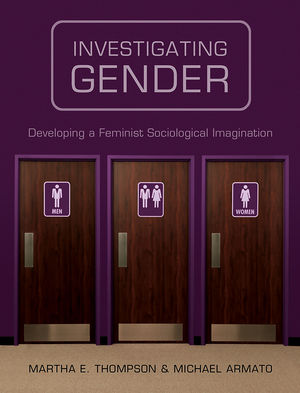 Investigating Gender
ISBN: 978-0-745-65186-6 January 2012 Polity 400 Pages
Download Product Flyer
Download Product Flyer
Download Product Flyer is to download PDF in new tab. This is a dummy description. Download Product Flyer is to download PDF in new tab. This is a dummy description. Download Product Flyer is to download PDF in new tab. This is a dummy description. Download Product Flyer is to download PDF in new tab. This is a dummy description.
Description
Gender analysis remains central to understanding social life, yet focusing on gender alone is inadequate. Recent feminist sociological scholarship highlights how gender intersects with other systems of privilege and oppression. This exciting new text combines these insights with an innovative, student-centered pedagogical approach. Taking knowledge acquisition as an important first step, the book goes beyond this to provide students with tools and skills necessary to become critical thinkers and, ultimately, investigate gender on their own from a global feminist sociological perspective.
Five themes are carried forward throughout the text:
the social construction of gender differences;
gendered inequalities;
intersections of gender with other systems of privilege and oppression;
a relational global perspective; and
the necessity of working toward social justice.
Investigating Gender employs creative features that engage students in feminist sociological inquiry from the outset. ""Learning Activities"" help students link their own lives to broader gender patterns, conduct gender analyses of their own, and consider ways they can work toward social justice. ""Research Examples"" introduce students to specific studies and model how to critically engage with contemporary scholarship from a feminist sociological perspective. Boxed inserts on ""The Power of One"" and ""The Power of Many"" provide examples of individuals and groups that are working toward social justice. The text also cultivates students' global perspective by framing issues internationally and guiding them through data and analyses from four diverse countries outside the US: China, Kenya, Mexico, and Sweden.
Investigating Gender will appeal to instructors who teach courses in the Sociology of Gender, Women's Studies, and Gender Communication; it will be an invaluable introduction to students taking any courses in which gender is the focus or a significant component.
Table of contents
Chapter 1: Introduction to Investigating Gender
Chapter 2: Bodies
Chapter 3: Families
Chapter 4: Education
Chapter 5: Work
Chapter 6: Health and Illness
Chapter 7: Media
Chapter 8: Politics
Chapter 9: Interpersonal Violence
Chapter 10: Integrating Feminist Sociological Insights for Future Investigations and Actions
References
Reviews
""Amidst the mountains of textbooks and edited volumes in the field of the sociology of gender, Thompson and Armato's book stands alone in its explicit application of the sociological imagination. They masterfully incorporate theory, methods, and research in a manner accessible for the undergraduate classroom... Thompson and Armato go beyond offering another good option for teaching about gender in the undergraduate classroom. For me, they present the one-stop solution.""
Radical Pedagogy
""The intent of the authors is to open the reader's eyes to the subtle ways in which each and every one of us is affected by sex, gender and feminism... The book encourages the reader to look closely at potential injustices in society and analyze their own experiences of inequality, a process they term 'developing one's feminist sociological imagination'.""
Feminism and Psychology
""Well-researched and creatively presented ... Whereas some texts, on any topic, can feel contrived, Thompson and Armato deliver a pattern of examining personal, anonymous experiences that lead the reader to further inquiry.""
Gender Education
""Thompson and Armato have helped me reevaluate the virtues of teaching about gender research and feminist conceptual frameworks using a textbook …
Investigating Gender
is a great resource for teaching and learning.""
Sex Roles
""
Investigating Gender
makes great use of feminism and sociology, and should open students' minds. My students could certainly benefit from this book - I think they would read it and like it. I was pleasantly surprised by how much I liked the book. Before I read
Investigating Gender
, I didn't think we needed another gender text. I was wrong.""
Linda Treiber, Kennesaw State University
""Investigating Gender is an ideal book for introductory or upper-division undergraduate courses in Sociology of Gender and Women's Studies. Comprehensive, well organized, and accessible, it uses wise pedagogical techniques to frame the learning as more than just knowledge acquisition, so students may track the development of themes, particularly intersectional and global analyses. It acts as an invitation to students - to be investigators, sociologists of gender. I am convinced there is a need for this book - I suspect it will make students lifelong gender investigators.""
Emily Gaarder, University of Minnesota-Duluth
""This book demonstrates how to make sense of personal experiences and observations by using a framework of feminist sociological theories, connected to larger social structures and forces. I believe that there is a need for a textbook like this among feminist sociologists who want to encourage their students to become agents of positive social change.""
Akiko Yasuike, California Lutheran University
Features
A fresh and exciting new textbook that will be an indispensable and dynamic entry point for students of gender.
Pays full attention to the recent move towards recognizing intersectionality and the way gender interacts with other forms of privilege and oppression.
Responds to the growing desire for global and international comparative material on gender, by taking a strong global perspective.
The authors have designed the text first and foremost to be pedagogically creative, enabling students to develop their own skills in gender analysis, rooted in social justice.