Investigating Language: Central Problems in Linguistics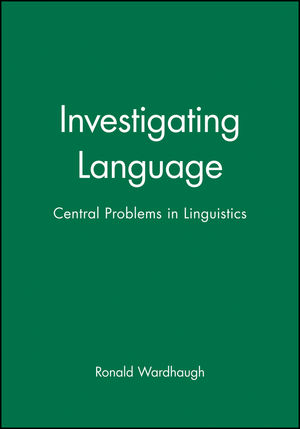 Investigating Language: Central Problems in Linguistics
ISBN: 978-0-631-18754-7 January 1991 Wiley-Blackwell 304 Pages
Description
This book is intended for anyone with a serious interest in language, but particularly for students taking introductory courses in language and linguistics. It is not a catalogue of facts and theories but a book about ideas and issues. Rather than summarize the range of research being conducted in linguistics today, it explores a number of the fundamental key questions which concern linguists, they are treated in way that is as accessible as possible. The book includes a glossary of technical terms and a chapter outlining the way language is described in generative grammar.
Table of contents
Preface.
1. How we might talk about 'talk'?.
2. Do only Humans Talk?.
3. Are we 'wired' for language?.
4. Does the mind matter?.
5. Why do languages Vary?.
6. Of what use is Language?.
7. How do we 'learn' a language?.
8. Describing language.
Glossary of Language terms.
Further reading.
References.
Index.
Reviews
"A most readable guide to the questions, data and theories of contemporary linguistics."
Charles W. Kreidler, Georgetown University
"The competing paradigms for investigating language are introduced with great skill and without unnecessary technical details or jargon. I enjoyed reading it." Broj B. Kachru, University of Illinois at Urbana Champaign.