Investing 101, Updated and Expanded Edition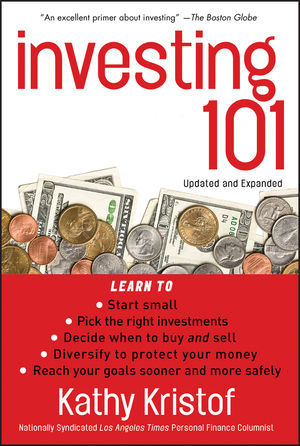 Investing 101, Updated and Expanded Edition
ISBN: 978-0-470-88531-4 May 2010 256 Pages
Download Product Flyer
Download Product Flyer
Download Product Flyer is to download PDF in new tab. This is a dummy description. Download Product Flyer is to download PDF in new tab. This is a dummy description. Download Product Flyer is to download PDF in new tab. This is a dummy description. Download Product Flyer is to download PDF in new tab. This is a dummy description.
Description
People wanting basic advice about stocks, bonds, mutual funds, retirement planning, and tax strategies are often frustrated by information overload. Picking the right book seems as daunting as deciding what to do with their savings and investments.
Investing 101: Updated and Expanded removes both roadblocks, putting people on a path that they can understand and stick with. Kristof is renowned for taking the mystery and anxiety out of investing by keeping choices manageable.
Kristof walks readers through the entire investment cycle and the way they think of their financial lives, rather than presenting stand-alone concepts like stocks and real estate. This expanded edition has new information about 529 college savings plans, annuities, Roth IRAs, reverse mortgages, and why declining markets can be good for you. It includes a cautionary look at home mortgages as investments. There's even a portfolio for the lazy investor.
Kristof's loyal readership and the success of this book's first edition demonstrate that she understands what's on the minds of investors as intimately as she knows what's happening in financial markets.
Winner: Cover and Interior Design, The Bookbinders Guild of New York/2009 New York Book Show Awards
Table of contents
Introduction xi
1 Fixing Money Problems 2
Finding and fixing the psychological ills that keep us from investing wisely.
2 Risk and Reward 16
The basics about how taking a few risks can reap long-term benefits.
3 The Starting Point 30
How to allocate your assets based on your goals.
4 Diversification 54
Dividing your assets among different investment categories is easier when you think about what different types of investments can do for you, rather than what they are. When you boil things down that way, there are just five investment categories, each of which offers an array of specific investments. Here are the categories and the choices within them.
5 Picking Individual Stocks 86
Using fundamental indicators of value to pick good stocks.
6 Tough Sell 108
How to figure out when it's time to call it quits with an investment.
7 Investing in Bonds 118
Where to put bonds in your portfolio and which bonds to choose.
8 Mutual Funds 126
A primer on mutual funds, from what they are to where to find one that suits your needs.
9 Socially Responsible Investing 150
What socially responsible investing is about and how to find socially conscious mutual funds.
10 Real Estate Investment Trusts 156
REITs allow individuals to invest in commercial real estate to diversify their portfolio and stabilize investment returns.
11 International Investing 162
The basics on investing outside of the United States.
12 Tax-Favored Investing 172
Uncle Sam gives Americans lots of ways to defer taxes while we save. Using these tax-favored vehicles can give your portfolio a boost. Here are your choices and what they can do for you.
13 Starting Small 190
Think you can't invest because you don't have a pile of cash to start? Never fear. There are several choices for people with as little as $20 or $25 a month.
14 The Lazy Investor's Portfolio Planner 198
The quintessential hands-off portfolio for the wise investor with very little time on his hands. You can do well quickly and easily with only a few hours a year.
15 How to Fix Your Broken Records 218
Record keeping is one of the most important—and widely ignored—steps in wise investing. But good records can help you monitor your portfolio and help you determine when to buy and sell. They can also save you a small fortune in taxes.
16 Getting Help 224
Read it all, but still don't want to go it alone? Here's a quick guide on how to hire someone to help you.
Glossary 234
Definitions for commonly used jargon so you can interpret Wall Street speak.
Index 237

Worksheet Reference
Monthly Budget 6
Risk Quiz: How Much Risk Can You Take? 23
College Cost Calculator 48
Is It a Buy 93
Calculating the Tax Implications of Selling Too Soon 116
Picking a Fund That Suits You 143
Determining What You Have.
Cash 201
Income Investments 201
Growth Investments 203
Real Estate 204
Debt 204
Keeping Tabs on Your Investments 221
Reviews
Praise for the first edition:
"Investing 101 by Kathy Kristof is a reader-friendly introduction to the basics of investing and personal finance. . . . If I had to suggest a book on investing and personal finance to an absolute beginner, it would be Investing 101." (BookPage)
"… [an] excellent primer about investing. Investors will get a clearer idea of how markets work and what you can realistically expect from your retirement funds." (The Boston Globe)
"Kristof's down-to-earth style and clear prose gives her writing a decidedly user-friendly quality. . . . The vast majority of us worker drones who haven't yet made complete sense of things will find Investing 101 an easy way to get started." (Miami Herald)
"Not only is this book more simple and straightforward than the typical book on investing, it's also more humorous and personal." (Today's Librarian)