Investing For Dummies, 2nd Australian Edition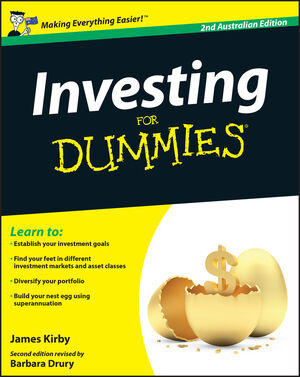 Investing For Dummies, 2nd Australian Edition
ISBN: 978-1-742-16851-7
Jul 2009
400 pages
Product not available for purchase
Description
Become a savvy investor with this updated bestseller
Want to make confident choices about your own investments? This bestselling guide has been thoroughly updated to provide you with the latest insights into smart investing -- from weighing your investment options across different asset classes to understanding risks and returns, managing your portfolio, and making sound, sensible investment choices.
Get time-tested investment advice -- expert authors James Kirby and Barbara Drury share their extensive knowledge and reveal how to invest in challenging markets
Discover all the fundamentals of investing -- explore your investment choices, weigh risks and returns, and choose the right investment mix
Navigate the sharemarket -- understand Australian shares and build your portfolio, take advantage of online trading, and evaluate investment research
Build wealth with managed funds, bonds and cash -- steer clear of the duds, minimise costs, and diversify your investments
Get rich with real estate and art -- find the right property, finance your investments, work with agents, and buy and sell art at auctions
Take more control of your superannuation -- understand your superannuation options and take advantage of tax benefits
Introduction.
Part I: Investing Fundamentals.
Chapter 1: Pack Your Bags for the Financial Journey.
Chapter 2: Taking Risk by the Horns.
Chapter 3: Ready, Set, Invest!
Chapter 4: Finding Your Feet in the Investment Markets.
Chapter 5: Listen Up! Finding the Best Advice.
Part II: The Markets.
Chapter 6: The Stock Market and You.
Chapter 7: The World of Stocks and Shares.
Chapter 8: Inside Info on the Stock Market.
Chapter 9: Getting Access to the Market.
Chapter 10: Playing the Stock Market Game.
Chapter 11: Putting the Web to Work: Online Trading.
Part III: Managed Funds, Bonds and Cash.
Chapter 12: How Do You Do? Getting to Know Fund Managers.

Chapter 13: Up Close and Personal with Managed Funds.
Chapter 14: Buying, Selling and Ditching Managed Funds.
Chapter 15: Elegant Bonds and Vulgar Cash
Part IV: Property and Collectibles.

Chapter 16: Land: They're Not Making It Anymore.
Chapter 17: Buying Your Home, Paying for It and Selling It.
Chapter 18: So, You Want to Be a Landlord?

Chapter 19: Casting About for Commercial Property.
Chapter 20: The Arty Side of Investing.

Part V: Your Nest Egg: Superannuation.

Chapter 21: Super: You Gotta Have It.
Chapter 22: Getting the Best From Superannuation.
Part VI: The Part of Tens.
Chapter 23: Ten Life Lessons for Clever Investing.
Chapter 24: Ten Things Your Financial Adviser Never Says to You.
Glossary.
Index.