Investing Online For Dummies®, 7th Edition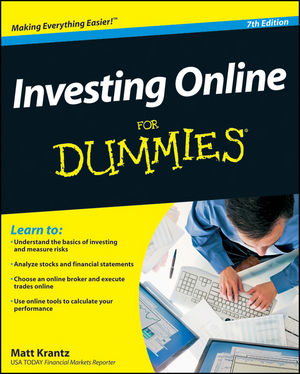 Description
Straightforward advice on investing online wisely with the most updated information available
If you're eager to take control of your investments but don't want to make it your full-time job, Investing Online For Dummies, 7th Edition will put you on your way. Completely updated to cover all the newest online tools and resources, this easy-to-understand guide gets you started with investing online and growing your online portfolio using the latest tools, information, and resources available. You'll learn to pick winning stocks, find an online broker, construct a profitable portfolio, research investment data online, and what considerations to take into account when making key decisions.
Addresses critical issues for beginner investors, such as setting reasonable expectations, figuring out how much to invest, assessing how much risk is appropriate, and picking an online broker
Pinpoints a variety of Web sites, online calculators, databases, and online communities that will help you make beneficial decisions
Delves into using online tools to calculate returns and risk, selecting mutual funds with online databases, analyzing stocks and financial statements, and buying bonds online
You'll quickly see the profits of the straightforward and fun online investing advice contained within Investing Online For Dummies, 7th Edition!
Introduction.
Part I: Getting Started Investing Online.
Chapter 1: Getting Yourself Ready for Online Investing.
Chapter 2: Getting Your PC Ready for Online Investing.
Chapter 3: Choosing the Best Account Type for You.
Chapter 4: Connecting with an Online Broker.
Chapter 5: Getting It Done: How to Enter and Execute Trades.
Part II: Using Online Investment Resources.
Chapter 6: Why Stock Prices Rise and Fall.
Chapter 7: Connecting with Other Investors Online.
Chapter 8: Measuring Your Performance.
Chapter 9: Choosing an Asset Allocation.
Chapter 10: Finding and Buying Mutual Funds.
Chapter 11: Finding and Buying Exchange-Traded Funds.
Part III: Maximizing Investment Knowledge.
Chapter 12: Putting Companies Under the Microscope.
Chapter 13: Evaluating Stocks' Prospects.
Chapter 14: Finding Investment Ideas with Online Stock Screens.
Chapter 15: Analyzing the Analysts and Stock Pickers.
Chapter 16: Researching and Buying Bonds Online.
Part IV: The Part of Tens.
Chapter 17: Ten Top Mistakes Made by Online Investors.
Chapter 18: Ten Ways to Protect Your Investments and Identity Online.
Chapter 19: Online Investors' Ten Most Common Questions.
Index.