Investing in Emerging Fixed Income Markets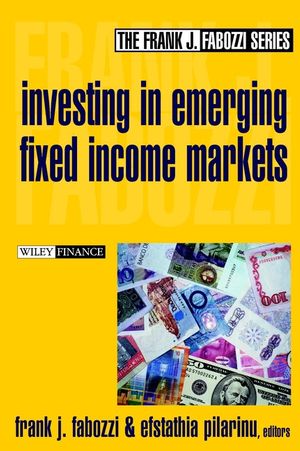 Investing in Emerging Fixed Income Markets
ISBN: 978-0-471-21836-4
Mar 2002
374 pages
Product not available for purchase
Description
An investor's guide to capitalizing on opportunities in the fixed income markets of emerging economies
The fixed income market in emerging countries represents a new and potentially lucrative area of investment for professionals, but with great risk. Investing in Emerging Fixed Income Markets shows investors how to identify solid investment opportunities, assess the risk potential, and develop an investment approach to enhance long-term returns. Contributors to this book, among the leading experts from around the world, share their insights, advice, and knowledge on a range of topics that will help investors make the right decisions and choices when dealing with emerging fixed income markets. This fully updated and revised edition of the Handbook of Emerging Fixed Income and Currency Markets is the best guide for navigating the complicated world of emerging fixed income markets.
Efstathia Pilarinu (Strasbourg, France) is a consultant specializing in the derivatives and emerging market fixed income areas. She has worked for several major Wall Street firms, including Salomon Brothers, Bankers Trust, Societe General. She has a doctorate degree and an MBA in finance from the University of Tennessee and an undergraduate degree in mathematics from the University of Patras, Greece.
John Wiley & Sons, Inc. is proud to be the publisher of the esteemed Frank J. Fabozzi Series. Comprising nearly 100 titles--which include numerous bestsellers--The Frank J. Fabozzi Series is a key resource for finance professionals and academics, strategists and students, and investors. The series is overseen by its eponymous editor, whose expert instruction and presentation of new ideas have been at the forefront of financial publishing for over twenty years. His successful career has provided him with the knowledge, insight, and advice that has led to this comprehensive series.
Frank J. Fabozzi, PhD, CFA, CPA, is Editor of the Journal of Portfolio Management, which is read by thousands of institutional investors, as well as editor or author of over 100 books on finance for the professional and academic markets. Currently, Dr. Fabozzi is an adjunct Professor of Finance at Yale University's School of Management and on the board of directors of the Guardian Life family of funds and the Black Rock complex of funds.
Buy Both and Save 25%!
Original Price:$200.50
Purchased together:$150.38
save $50.12
Cannot be combined with any other offers.
About the Editors.

Contributing Authors.

Introduction (Frank J. Fabozzi and Efstathia Pilarinu).

SECTION I: EMERGING MARKET CHARACTERISTICS.

Brady Bonds (Jane Sachar Brauer).

Latin American Local Markets (James C. Kennan).

The Convergence of the Central European EMGs to the European Union (Stephen Gilmore).

Emerging Fixed Income and Local Currency: An Investment Management View (Luis R. Luis).

A Disciplined Approach to Emerging Markets Debt Investing (Maria Mednikov Loucks, John A. Penicook, Jr., and Uwe Schillhorn).

Emerging Market CBOs: Considerations for Portfolio Managers (Laurie Goodman).

SECTION II: VALUATION AND TRADING ISSUES.

How Swap Spreads Affect the Performance of Floating Rate Emerging Market Bonds (Costas C. Hamakiotes).

Quantifying Dollar Differentials Between Emerging Market Bonds in Yield Terms (Costas C. Hamakiotes).

From the Asian Crisis to the Brazilian Devaluation: The View from a Trading Desk (Marcelo Fernandes de Lima Castro).

Local Fixed Income Arbitrage: The Brazilian Case Study (Marcelo Fernandes de Lima Castro).

Valuing Options on Fixed Exchange Rates: A Case Study of the Argentine Peso (James C. Kennan).

SECTION III: CREDIT ISSUES.

Challenges in the Credit Analysis of Emerging Market Corporate Bonds (Christopher Taylor).

Debt Covenants: Applications in Emerging Markets (Allen Vine and David Sohnen).

New Standards for Sovereign Credit Analysis and Risk Management: The Lessons of the Asia Crisis (Paul A. Pannkuk).

Default and Recovery Rates in Emerging Markets (Tsvetan N. Beloreshki).

Tevecap (Bruce Stanforth).

Dao Heng Bank (Andrew M. Aran).

Index.