Investing in Emerging Growth Stocks: Making Money with Tomorrow's Blue Chips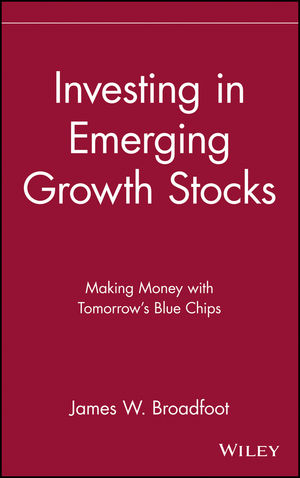 Investing in Emerging Growth Stocks: Making Money with Tomorrow's Blue Chips
ISBN: 978-0-471-61844-7 March 1989 240 Pages
Description
How to spot emerging growth stocks--and make money by investing in small, fast-growing companies. Gives down-to-earth guidance on how to pick stocks that will outperform the market and how to avoid those that will fail. Includes what to look for in small companies, how to analyze them, and how to diversify among them. Shows you how to analyze profitability, competition, and management with an eye toward when to buy, when to sell, and when to sit on the sidelines. Uses concrete examples to show you how to put the information to work for you.
Table of contents
WHETHER TO PLAY, WHEN TO PLAY.

The Promise of Emerging Growth.

Cycles of Valuation: When to Play, and When to Stay on theSidelines.

SELECTING STOCKS AND CONSTRUCTING YOUR PORTFOLIO.

Basic Stock Selection Techniques.

Tough Businesses and Common Problems.

Visibility and Recurring Revenue.

Spectradyne: Anatomy of a Winner.

Why the Odds Favor Service Companies.

Home-Run Stocks.

Creating and Using Models for Stock Selection.

Valuing Individual Stocks.

BUYING AND SELLING.

Liquidity and Trading Strategies.

Selling Stocks.

FROM THEORY TO PRACTICE.

Profiles in Growth.

Putting It All to Work.

Appendix.

Index.