Investing in Hedge Funds, Revised and Updated Edition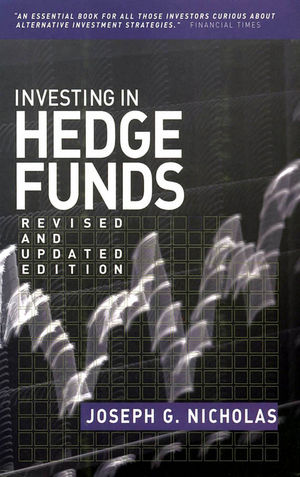 Investing in Hedge Funds, Revised and Updated Edition
ISBN: 978-1-576-60184-6
Aug 2005
336 pages
Description
Hedge funds are in the news and on the minds of sophisticated investors more than ever. Investors have questions about how the funds are structured, where the assets are allocated, and whether hedge funds can truly act as a hedge against market risk. The answers are all here in Investing in Hedge Funds.

Until recently, much of what makes hedge funds tick has been closely guarded--the intellectual property of Wall Street's investment elite. In this updated and revised text, Joseph G. Nicholas, founder and chairman of the leading industry information provider Hedge Fund Research, Inc., travels inside the hedge fund marketplace to explain the alternative investment strategies of top fund managers, providing clear descriptions of how to access these funds and where they're headed. It's a complete guide that everyone investing in hedge funds should study closely.
Introduction.
PART I: Keys to Understanding.
CHAPTER 1: What Is a Hedge Fund?
CHAPTER 2: The Hedge Fund Investment Structure.
PART II: Investing with Knowledge.
CHAPTER 3: Hedge Fund Strategies.
CHAPTER 4: Fixed-Income Arbitrage.
CHAPTER 5: Equity Market Neutral.
CHAPTER 6: Convertible Arbitrage.
CHAPTER 7: Merger (Risk) Arbitrage.
CHAPTER 8: Distressed Securities.
CHAPTER 9: Event-Driven Strategies.
CHAPTER 10: Macro Investing.
CHAPTER 11: Sector Funds.
CHAPTER 12: Equity Hedge.
CHAPTER 13: Emerging Markets.
CHAPTER 14: Short Selling.
PART III: Making an Investment.
CHAPTER 15: Investing in Hedge Funds.
CHAPTER 16: After the Initial Allocation.
APPENDICES.
A. Calculation Methodology.
B. Resources for Investors.
C. Hedge Fund Research Performance Indices.
GLOSSARY.
NOTES.
INDEX.
"This book tells all. It explains how [hedge funds] work.
This is a serious and important book on the subject and must be read by any serious investor.
" (
Tradersworld
magazine)
"Nicholas has done an invaluable service in laying out exactly how hedge funds work, who runs them, how they incorporate, their benefits and risks, and how to go about selecting one." (TheStreet.com)
"I have yet to find a book which does such a good job of demystifying an area which has been kept deliberately opaque (with good reason) by its players." (AIMA (Alternative Investment Management Association) Newsletter)