Investment Banking and Investment Opportunities in China: A Comprehensive Guide for Finance Professionals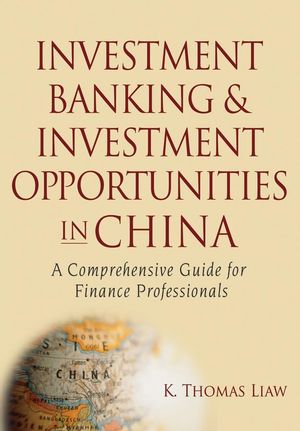 Investment Banking and Investment Opportunities in China: A Comprehensive Guide for Finance Professionals
ISBN: 978-0-470-04468-1 July 2007 576 Pages
Description
Praise for Investment Banking & Investment Opportunities in China

""I first met Tom Liaw when my company was exploring potential opportunities in Taiwan. He clearly knew the market and proved invaluable in explaining the financial landscape and in arranging meetings with potential clients, other market participants, and senior government officials. Investment Banking and Investment Opportunities in China should prove equally valuable as we now look to further expand our activities to mainland China.""
-Douglas Reinfeld-Miller, EVP, Ambac Assurance, and Chairman/CEO, Ambac Assurance UK Ltd

""There is no more important market than China today. Dr. Liaw's book provides an overview of the current situation and recommendations as to how investors can profit from China's amazing growth.""
-Donald Tang, Chairman, Bear, Stearns Asia Ltd, and Vice Chairman, Bear, Stearns & Co., Inc.

""Professor Liaw's book takes you on a quick walk through the major milestones in China's economic development over the past two decades. It shows a clear understanding of the environment for doing business in China and explains hot topics in the marketplace. This book is simple, easy to read, and yet highly informative.""
-Jesse Wang, Vice Chairman, China Central SAFE Investments Ltd, and Chairman, China International Capital Corporation Ltd

""Provides a clear map of China's financial system, investment banking business, and investment opportunities. It should be read by all who are interested in China.""
-Mao-Wei Hung, Dean, College of Management, National Taiwan University

""Dr. Liaw's book is a comprehensive professional reference work for those of us involved in the global investment arena. I highly recommend it.""
-Charles P. Menges, Jr., CFA, Principal, Business Global Wealth Management, a Unit of Alliance Bernstein LP

""China's development has a unique track, including the financial market. People who want to profit from China should have a clear view of this market. Dr. Liaw's book, explaining China's market opening and foreign participation, is the one necessary for them to read.""
-Wei Xing, Director of Rules and Regulations, China Insurance Regulatory Commission
Preface.
Acknowledgments.
PART I: INTRODUCTION TO CHINA'S FINANCIAL MAKRETS AND BUSINESS BASICS.
Chapter 1. An Overview of China's Powerful and Growing Economy.
Chapter 2. Opening Financial Markets through World Trade Organization Membership.
Chapter 3. Huge Opportunities and Unique Challenges of Investing in China.
Chapter 4. Navigating China's Business Culture, Political Risks, and Corruption.
Chapter 5. Chinese Business and Financial Law.
Chapter 6. Greasing the Wheels and Entering the Chinese Markets.
PART II: CHINA'S FINANCIAL MARKETS AND INVESTMENT BANKING.
Chapter 7. Opportunities and Challenges for Foreign Firms in China's Financial System.
Chapter 8. Private Equity Fund Management and Investing.
Chapter 9. The Growing Market for Mergers and Acquisitions.
Chapter 10. Underwriting Stocks.
Chapter 11. Underwriting Fixed-Income Securities.
Chapter 12. Derivatives Markets and Risk Management.
Chapter 13. Asset Management Business.
PART III: PROFITABLE INVESTMENTS IN CHINA.
Chapter 14. Profit from Investment Opportunities in China.
Chapter 15. Investing in Growth Sectors.
Chapter 16. Investing in Value Sectors.
Chapter 17. Investing in Chinese Companies Listed on U.S Exchanges.
Chapter 18. Investing in Chinese Mutual Funds.
Chapter 19. Investing in Chinese Exchanged-Traded Funds Listed on U.S. Exchanges.
Appendix A. Foreign Corrupt Practices Act: Antibribery Provisions.
Appendix B. Law of the People's Republic of China on Banking Regulation and Supervision.
Appendix C. Securities Law of the People's Republic of China.
Appendix D. Insurance Law of the People's Republic of China.
Appendix E. Encouraged, Restricted, and Prohibited Foreign Investment Industries.
Appendix F. China's Law on Chinese-Foreign Equity Joint Ventures.
Appendix G. China's Law on Chinese-Foreign Contractual Joint Ventures.
Appendix H. Provisional Administrative Rules Governing Derivatives Activities of Financial Institutions.
Appendix I. ETFs on American Stock Exchange.
Chapter Notes.
Glossary.
Bibliography.
Index.