Investment Management, 2nd Edition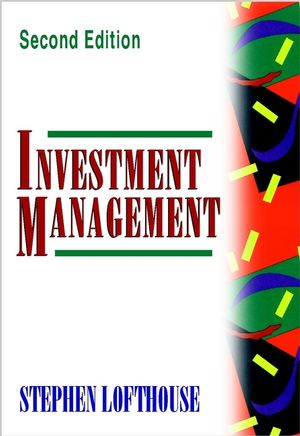 Investment Management, 2nd Edition
ISBN: 978-0-471-49237-5
Jul 2001
600 pages
Description
Fully updated to cover changing investment techniques and markets

Completely revised and updated, this new edition provides a solid introduction to investment techniques and up-to-date financial theory and has been expanded to include discussions of derivatives, bonds and fixed interest, equity investment, as well as private client accounts. Investment Management provides a thorough grounding in current investment techniques in a form uniquely suited to the perspective of the fund manager and analyst. Readers will find enlightening and practical coverage of such topics as behavioral finance, assessing investment systems, creative accounting and bankruptcy, neglected and new stocks, arbitrage pricing theory, forecasting the economy, business cycle, valuation, emerging markets, and passive investment management.

Stephen Lofthouse's career spanned both the academic and commercial investment worlds. He is a former Director of James Capel stockbrokers, now part of HSBC group, and Executive Chairman of James Capel FundManagers Ltd and James Capel Unit Trust Management Ltd.
Preface.

Introduction.

Portfolio Theory.

The Capital Asset Pricing Model.

Arbitrage Pricing Theory.

Behavioural Finance.

The Efficient Market.

Introduction to Share and Sector Selection.

Economic Fundamentals.

Accounting Fundamentals.

Dividend Discount and Price-Earnings Models.

Earnings-Based Share Selection.

Aspects of Value versus Growth.

Value, Growth and Size: Evidence.

A Share Picker's Miscellany.

Technical Analysis.

Sector Strategy.

Constructing a Share Portfolio.

Bonds: An Introduction.

Bond Strategy.

International Investing.

Derivatives.

Strategic and Tactical Asset Allocation.

Tactical Asset Allocation: The Economy and Market Ratios.

Tactical Asset Allocation: Risk and Return.

Fund Managers: Buy, Sell or Hold?

Appendix: Statistical Methods.

Glossary.

References.

Index.
Topics include:
Behavioural finance

Assessing investment systems

Creative accounting and bankruptcy

Neglected and new stocks

Arbitrage pricing theory

Forecasting the economy

Business cycle

Valuation

Emerging markets

Passive investment management