Investment Secrets from PIMCO's Bill Gross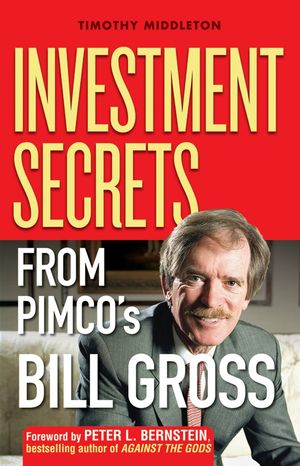 Investment Secrets from PIMCO's Bill Gross
ISBN: 978-0-471-73601-1 March 2006 242 Pages
Description
Praise For Investment Secrets From PIMCO's Bill Gross

"No investor is held in higher regard by his peers than Bill Gross. His understanding of the markets and his insights on how to profit from them are unparalleled. Now, Tim Middleton takes you into Gross's world for an insider's view on how the world of finance really works. If this book were a bond, it would be AAA rated with a double-digit yield."
-DON PHILLIPS, Managing Director, Morningstar, Inc.

"The secret to investment success is discipline. In bonds, nobody has displayed better discipline than Bill Gross. And nobody has done a better job of explaining Gross's methods, and instructing private investors how they can exploit his approach, than Tim Middleton."
-JON MARKMAN, Columnist, CNBC on MSN Money

"Warren Buffett, John Neff, Bill Miller, Peter Lynch-the stock market has always had dominant personalities whose long-term success becomes legend. In the bond market, that dominant personality is Gross."
-FORTUNE

"Bill Gross is the Emeril Lagasse of bond managers."
-FORBES

"If you want to get a stock mutual fund manager steamed, ask why his fund can't beat bond guru Bill Gross."
-USA TODAY
Foreword.
Preface.
Acknowledgments.
PART I: GROSS THE MAN.
Introduction.
Chapter 1. From $200 to Half a Billion.
Chapter 2. Total Return Investing.
Chapter 3. The Gifts of the Magi.
PART II: TOTAL RETURN INVESTING.
Chapter 4. A Waterlogged World.
Chapter 5. All Bonds Are Divided into Three Parts.
Chapter 6. Taking Taxes Off the Table.
Chapter 7. Where the "Oh, Boys!" Are.
PART III: THE ROYAL APPROACH.
Chapter 8. How to Invest for the Next Five Years.
Chapter 9. The Ways of the King.
Sources.
Bibliography.
Index.