Investments, 2nd Edition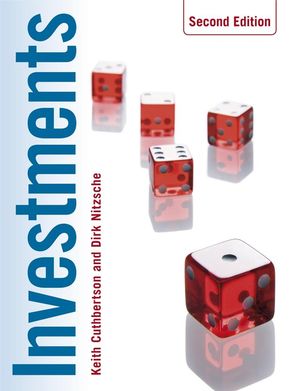 Investments, 2nd Edition
ISBN: 978-0-470-51956-1 December 2009 790 Pages
Description
Based on class-tested material, this book is an excellent introduction to global financial markets. The authors link theory and real world issues in their coverage of equity, bond and FX strategies including methods such as chartism, neural networks and chaos theory. Raising funds in the money markets and via equity and debt securities, as well as dividend and merger policy provide further practical illustrations of theoretical ideas. Futures, options and swaps and their use in speculation, hedging and arbitrage are also examined.

The authors include a vast array of pedagogy, including chapter objectives summaries; end of chapter exercises; numerous real-world examples and case vignettes; Excel spreadsheets providing simulations for the reader; a glossary of terms; clear, simple and consistent mathematical notation.
Preface ix
List of Symbols and Abbreviations xv
PART 1: FINANCIAL MARKETS.
CHAPTER 1 Markets and Players 3
CHAPTER 2 Raising Finance 19
CHAPTER 3 Financial Instruments 39
CHAPTER 4 Trading Securities 63
CHAPTER 5 Investment Companies 73
PART 2: VALUATION.
CHAPTER 6 Valuation Techniques 85
CHAPTER 7 Cost of Capital 109
CHAPTER 8 Valuing Firms 125
PART 3: ASSET RETURNS AND PORTFOLIO THEORY.
CHAPTER 9 Measuring Asset Returns 153
CHAPTER 10 Portfolio Theory 189
CHAPTER 11 International Portfolio Diversification 221
CHAPTER 12 Single-Index Model 239
CHAPTER 13 CAPM and APT 265
PART 4: EQUITY MARKETS.
CHAPTER 14 Stock Valuation and the EMH 291
CHAPTER 15 Behavioural Finance and Anomalies 317
CHAPTER 16 Predicting Stock Returns 337
CHAPTER 17 Technical Trading Rules 353
PART 5: FOREIGN EXCHANGE MARKET.
CHAPTER 18 Spot and Forward Markets 379
PART 6: FIXED-INCOME MARKETS.
CHAPTER 19 Money Markets 417
CHAPTER 20 Bond Markets 439
CHAPTER 21 Term Structure of Interest Rates 465
CHAPTER 22 Bond Market Strategies 481
PART 7: DERIVATIVES.
CHAPTER 23 Derivative Securities 507
CHAPTER 24 Futures Markets 533
CHAPTER 25 Options Markets 559
CHAPTER 26 Options Pricing 589
CHAPTER 27 Energy and Weather Derivatives 623
PART 8: PORTFOLIO MANAGEMENT.
CHAPTER 28 Private Equity 645
CHAPTER 29 Performance of Mutual Funds 655
CHAPTER 30 Hedge Funds 675
CHAPTER 31 Market Risk and Value at Risk 697
Glossary 719
Internet Sites 741
References 745
Index 755
The mathematical level of the text is lowered in order to make the text more accessible to a wider audience

New material has been added on behavioural finance, mutual hedge funds, venture capital and equity markets, weather and energy derivatives, carbon trading, exotic derivatives, real options, derivatives strategies, and market risk/value at risk

Material on Corporate Finance has been removed.
A real-world flavour throughout
An Excel spreadsheet to enable the students to simulate and run the examples in the text

Concludes with a basic introduction to derivatives and risk management

Topic boxes on current policy issues and newspaper extracts, giving practical applications and real world context of the ideas presented
2 colour in-text design
Clear, simple and consistent mathematical notation, with worked examples and end of chapter questions
Supporting website including Lecturer's Resource Pack and Student Centre with interactive Excel and GAUSS software