Investments: Analysis and Management, 13th Edition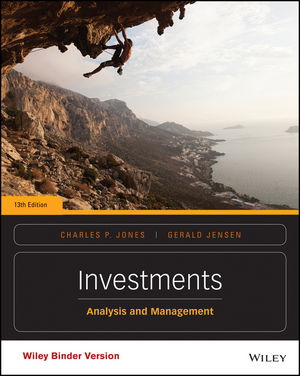 Investments: Analysis and Management, 13th Edition
ISBN: 978-1-118-97558-9 March 2016 640 Pages
Description
In an every-changing financial market, Charles Jones and Gerald Jensens' Investments remains one of the most readable and comprehensive investments texts. Students can count on the new 13th Edition for clarity, currency, and balance. An effective organizational structure and essentials approach, important analytical methods, and finance concepts are presented at a level that individuals of all investments backgrounds can master.
Table of contents
PART ONE BACKGROUND
Chapter 1 Understanding Investments, 1
Chapter 2 Investment Alternatives, 22
Chapter 3 Indirect Investing, 54
Chapter 4 Securities Markets and Market Indexes, 87
Chapter 5 How Securities are Traded, 111
PART TWO PORTFOLIO AND CAPITAL MARKET THEORY
Chapter 6 The Returns and Risks from Investing, 135
Chapter 7 Portfolio Theory, 169
Chapter 8 Portfolio Selection and Asset Allocation, 197
Chapter 9 Capital Market Theory and Asset Pricing Models, 222
PART THREE COMMON STOCKS: ANALYSIS, VALUATION, AND MANAGEMENT
Chapter 10 Common Stock Valuation, 254
Chapter 11 Common Stocks: Analysis and Strategy, 289
Chapter 12 Market Efficiency, 311
PART FOUR SECURITY ANALYSIS
Chapter 13 Economy/Market Analysis, 339
Chapter 14 Sector/Industry Analysis, 362
Chapter 15 Company Analysis, 378
Chapter 16 Technical Analysis, 412
PART FIVE FIXED-INCOME SECURITIES: ANALYSIS, VALUATION, AND MANAGEMENT
Chapter 17 Bond Yields and Prices, 434
Chapter 18 Bonds: Analysis and Strategy, 463
PART SIX DERIVATIVE SECURITIES
Chapter 19 Options, 490
Chapter 20 Futures Contracts, 525
PART SEVEN INVESTMENT MANAGEMENT
Chapter 21 Managing Your Financial Assets, 551
Chapter 22 Evaluation of Investment Performance, 574
Glossary, 603
Index, 611
New To This Edition
Enhanced Pedagogy Lead-in questions and problems illustrate important issues that are discussed in the chapter.
Current Examples Materials have been updated to illustrate important issues, such as ETFs versus ETNs, the InterContinental Exchange (ICE), the Dodd-Frank Act, developments in asset pricing, the investment policy statement (IPS), and constant proportion portfolio insurance (CPPI).
Real-World Connections Expanded and updated applications and opinions from professionals in personal finance and portfolio management.
Clarified Explanations Important calculations, such as time-weighted returns, the valuation of common stocks, effective duration, justifiable price multiples, and other valuation techniques have been updated to provide a clear explanation of these advanced topics.
New Co-Author Gerald Jensen's background includes: 29 years of teaching experience, extensive consulting work for CFA Institute, and a renowned research record in academic and professional outlets.
What's New
Concrete Background Covers financial theories, models, and markets information that students need, along with examination of topics including portfolio analysis, valuation, and management of stocks and bonds.
Real-world Coverage Updated discussion of Exchange Traded Funds, private equity, financial regulation, operations on security exchanges, margin trading and short-selling, electronic communication networks, global investing, behavioral finance, and technical analysis.
Pedagogy that Works Includes substantive practice problems, Excel problems, cases, concepts in action, investment intuition, chapter learning objectives, examples, exhibits, summaries, key words, web resources, practical advice, and more.
Emphasis on Readability Makes Investments' material readily accessible, interesting, and entertaining to allow for students with modest prerequisites to follow the entire discussion.