Investments: Analysis and Management, 3rd Canadian Edition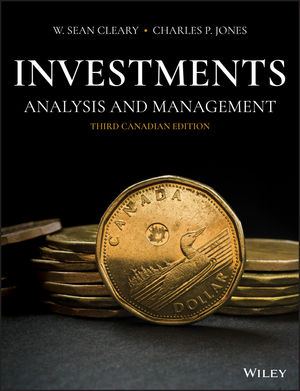 Investments: Analysis and Management, 3rd Canadian Edition
Description
Investments by Cleary and Jones presents a balanced approach to the field of investments. The text provides all the necessary theoretical coverage needed to complete the course while providing students with a strong sense of what actually happens "on the street". Students do not get lost in unnecessary and long theoretical discussions, and are easily able to see how concepts are used in the investments world. Investments is highly regarded as being student-friendly, accessible, and focused on the real-world of investments, and this continues to be reflected in the new third edition, which has been completely revised and updated to reflect the latest changes in the field of investments.
Part One: Background
Chapter 1 Understanding Investments
Chapter 2 Investment Alternatives
Chapter 3 Investment Funds
Chapter 4 Securities Markets
Chapter 5 How Securities Are Traded
Chapter 6 The Returns and Risks from Investing
Part Two: Important Investment Concepts
Chapter 7 Expected Return and Risk
Chapter 8 Portfolio Selection
Chapter 9 Capital Market Theory
Chapter 10 Market Efficiency
Part Three: Fixed-Income Securities: Analysis, Valuation and Management
Chapter 11 Bond Yields and Prices
Chapter 12 Bonds: Analysis and Strategy
Part Four: Common Stocks: Analysis, Valuation and Management
Chapter 13 Common Stock Valuation
Chapter 14 Common Stocks: Analysis and Strategy
Part Five: Security Analysis
Chapter 15 Analysis of the Economy and the Stock Market
Chapter 16 Industry Analysis
Chapter 17 Company Analysis
Chapter 18 Technical Analysis
Part Six: Derivative Securities
Chapter 19 Options
Chapter 20 Futures
Part Seven: Investment Management
Chapter 21 Portfolio Management
Chapter 22 Evaluation of Investment Performance
WileyPLUS: to support diverse teaching and learning, Investments is available with WileyPLUS, a powerful online tool that provides instructors and students with a suite of teaching and learning resources in one easy-to-use system. WileyPLUS helps today's students succeed in the classroom with step-by-step instruction, instant feedback, and support material to reinforce key concepts. Instructors can monitor progress and spend more time teaching and less time grading as much homework as they want to. WileyPLUS also includes a full interactive version of the text. 
Ethics and Corporate Governance: Found at the end of each part in the text, this feature includes an item relating to ethics and corporate governance and how these issues affect corporations today. These items are accompanied by questions to help launch in-class analysis and discussion.
Expanded Problem Material, both in quantity and degree of complexity to allow for additional opportunities to test student understanding, including additional Excel spreadsheet exercises.
An accessible writing style and a focus on how investment theory is actually applied "on the street" make Investments ideal for the beginning investment student.
Preparing for Your Professional Exams, a unique section at the end of every chapter, is a valuable resource for students who will be registering in professional education programs.
Focus on the Chartered Financial Analyst (CFA) program including sample CFA exam questions and practice problems, excerpts from the CFA Magazine, and the inclusion of CFA-specific topics (Appendix 11-B: Effective Duration and Effective Convexity; and Appendix 13-B: The Free Cash Flow Valuation Approach).
Chapter-Opening Vignettes introduce the topics to be discussed in each chapter and provide a brief chapter overview.
Investing Tips help students quickly grasp the logic behind investments concepts.
Real World Returns boxes feature current and thought-provoking material from Canadian and global media sources.
Expanded section on financial analysis includes a sample company to allow a full ratio analysis.
Extensive Pedagogy helps students identify and retain important points:

Chapter learning objectives
Chapter previews
New Concept check questions
End-of-chapter summaries that relate to learning objectives
Key terms highlighted in text, defined in margin and listed at the end of each chapter
End-of-chapter review questions, including practice and sample CFA questions