Investor Relations for the Emerging Company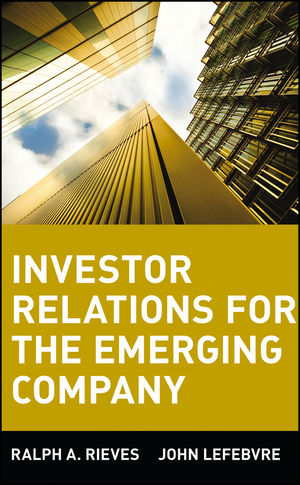 Investor Relations for the Emerging Company
ISBN: 978-0-471-06417-6
Feb 2002
208 pages
Product not available for purchase
Description
The definitive guide for CEOs, CFOs, and executives of newly public companies
Learning to deal with investors, employees, media, regulators, and others once a company has gone public requires dedication and consistency. Investor Relations for the Emerging Company helps fledgling public company officers and directors prepare for the unique business task of convincing investors of their company's value. From describing the various organizations, institutions, mechanics and behaviors of capital markets to clarifying the requirements and best practices for reporting and disclosure, this book provides all the answers. CEOs, CFOs, and executives who must operate an effective investor relations program within the budget constraints of their newly listed company will use this book for years to come.
Preface.

Acknowledgments.

PART ONE: THE INVESTOR UNIVERSE.

CHAPTER 1 Introduction.

CHAPTER 2 The Securities Markets.

CHAPTER 3 Modern Investing Theories and Practices.

CHAPTER 4 Institutional Investors.

CHAPTER 5 Targeting the Microcap Growth Investment Manager.

CHAPTER 6 Reaching the Individual Investor.

PART TWO: COMPLIANCE AND DISCLOSURE.

CHAPTER 7 Financial Reporting.

CHAPTER 8 The Disclosure Challenge.

CHAPTER 9 The Chat Room Pox.

PART THREE: CORPORATE PRACTICES.

CHAPTER 10 Establishing an Investor Relations Department.

CHAPTER 11 Best Practices for News Releases.

CHAPTER 12 Best Practices for Conference Calls and Presentations.

CHAPTER 13 Corporate Strategy and Market Value: The Three Areas Where Actions Speak the Loudest.

Summary.

Conclusion.

Index.