Invisible Enemy: The African American Freedom Struggle after 1965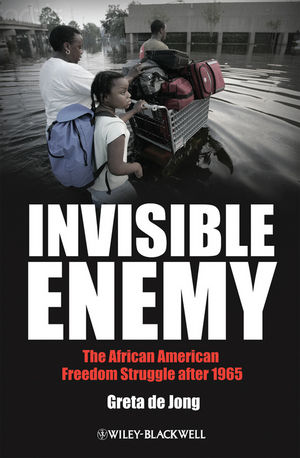 Invisible Enemy: The African American Freedom Struggle after 1965
ISBN: 978-1-405-16717-8 April 2010 Wiley-Blackwell 256 Pages
Description
This highly accessible account of the evolution of American racism outlines how 'colorblind' approaches to discrimination ensured the perpetuation of racial inequality in the United States well beyond the 1960s.
A highly accessible account of the evolution of American racism, its perpetuation, and black people's struggles for equality in the post-civil rights era

Guides students to a better understanding of the experiences of black Americans and their ongoing struggles for justice, by highlighting the interconnectedness of African American history with that of the nation as a whole

Highlights the economic and political functions that racism has served throughout the nation's history

Discusses the continuation of the freedom movement beyond the 1960s to provide a comprehensive new historiography of racial equality and social justice
Table of contents
Acknowledgments.
Introduction.
1. The Never Ending Story: American Racism from Slavery to the Civil Rights Movement.
2. From the Freedom Movement to Free Markets: Racializing the War on Poverty and Colorblinding Jim Crow.
3. A System without Signs: The Invisible Racism of the Post-Civil Rights Era.
4. Fighting Jim Crow's Shadow: Struggles for Racial Equality after 1965.
5. To See or Not to See: Debates over Affirmative Action.
6. Is This America? Electoral Politics after the Voting Rights Act.
7 Fir$st Cla$$ Citizen$hip: Struggles for Economic Justice.
8. All Around the World: The Freedom Struggle in a Global Context.
Notes.
Index.
Reviews
"The book is an important contribution in understanding a still largely overlooked period of contemporary history. Highly recommended. All levels/libraries." (Choice , 1 April 2011)
"Even so, the thematic unity and clear elucidation of the nature and persistence of systemic racism in American society and of white Americans ' blindness to it makes the book a valuable study that
should engage student audiences and the reading public." (Journal of American History, 1 March 2011)