Invitation to Poetry: The Pleasures of Studying Poetry and Poetics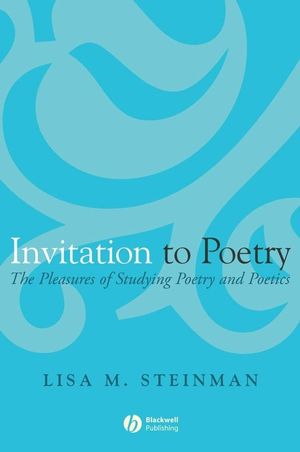 Invitation to Poetry: The Pleasures of Studying Poetry and Poetics
ISBN: 978-1-405-13163-6 January 2008 Wiley-Blackwell 256 Pages
Description
For anyone who has ever wanted to become fluent in the language of poetry, Invitation to Poetry will prove an essential guide. This book:


Teaches the serious student how to 'speak poetry' through an in-depth examination of the traditional features and technical vocabulary of poetic language;


Examines British and American materials from the sixteenth through the twentieth centuries in order to give students a sense of a range of different period styles, poetic projects, and strategies;


Explicitly examines, questions and challenges the relationship of poetry to literary periods and canons;


Offers the technical tools essential for close reading and interpretation across a broad chronological spectrum.

Table of contents
Preface.
Acknowledgments.
1. Conceptual Syntax: An Introduction to the Way Poems Invite Different Approaches and Position Readers.
2. Speaking Poetry: Night Pieces and Intertextual Conversations.
3. The Gestures and Subjects of the Sonnet.
4. The Uses of Meter and Rhythm in the Sonnet.
5. The Form of the Voice: Tone and Diction.
6. Modes, Odes, and Odic Gestures.
7. What is Pastoral?.
8. Traditions, Legacies, and Individual Talents.
9. Forests and Trees, or Playing with Poems.
Index
Reviews
"To the casual reader, Steinman explains how poems work; to the critical reader, why they keep working. Ranging over several centuries, styles, genres, and modes of English verse,
Invitation to Poetry
provides both the tools needed to 'play with poems' and a manual in their use."
C. D. Blanton, University of California, Berkeley
"Lisa Steinman's Invitation to Poetry, with its effortless scholarship and engaging manner, offers a wonderful introduction to the study of poetry. This is a beautifully-written book which offers many pleasures, and for those who read attentively, a tremendous depth of reference underpinning its argument."
Tim Armstrong, Royal Holloway, University of London

Features


Teaches the serious student how to "speak poetry" through an in-depth examination of the traditional features and technical vocabulary of poetic language

Examines British and American materials from the sixteenth through the twentieth centuries in order to give students a sense of the range of different period styles, poetic projects, and strategies

Explores how to use poetry to grasp the concepts of literary periods and canons

Offers the technical tools essential for close reading and interpretation across a broad chronological spectrum