Involving Commuter Students in Learning: New Directions for Higher Education, Number 109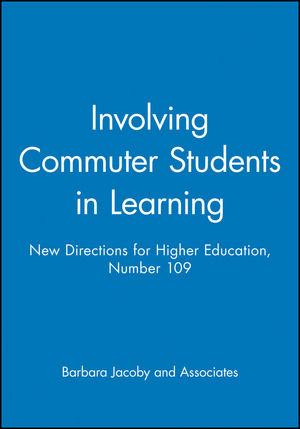 Involving Commuter Students in Learning: New Directions for Higher Education, Number 109
ISBN: 978-0-787-95340-9
Mar 2000, Jossey-Bass
120 pages
Description
Although commuter students-those who do not live in institution-owned housing on campus-account for more than 86% of today's college students, their unique needs have neither been adequately understood nor incorporated into policies, programs, and practices. This sourcebook explains how to use what we know about commuter students' lifestyles and concerns to create communities of learners that meet the distinct needs of students who live off-campus. The authors show how curricular learning communities can help students overcome their sense of isolation from faculty and peers. They offer practical techniques to involve commuter students in teamwork and research. And they provide a range of other innovative ways to create communities of learners-from building a sense of community within individual courses to the creative use physical space, information technology, living-learning communities, and experiential education programs. Editor Barbara Jacoby concludes the volume by examining the obstacles to involving commuter students in learning, offering strategies that have proven effective across different institutional settings.

This is the 109th issue of the quarterly journal New Directions for Higher Education.
Why Involve Commuter Students in Learning? (B. Jacoby).
Curricula Learning Communities (J. Levine & N. Shapiro).
Creating Community Within Individual Course (A. Chickering).
The Collegium: Community as Gathering Place (C. Orlando).
Developing Community Through Experiential Education (S. Rubin).
Teamwork and Research at the Frontiers of Learning (R. Yuan & S. Benson).
Using Information Technology to Create Communities of Learners (K. Kruger).
Welcoming Commuter Students into Living-Learning Programs (R. Stevens).
Involving Commuter Students in Learning: Moving from Rhetoric to Reality (B. Jacoby).