Irrwitziges aus der Wissenschaft: Von Dunkelbirnen und Leuchtkaninchen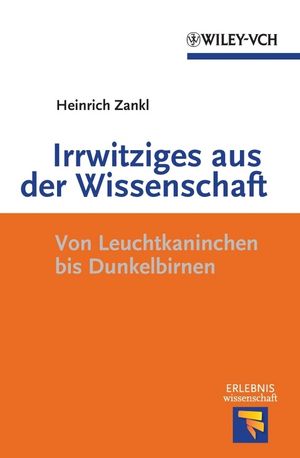 Irrwitziges aus der Wissenschaft: Von Dunkelbirnen und Leuchtkaninchen
ISBN: 978-3-527-64142-0 March 2012 269 Pages
Description
Science need not only be amusing, it can even be side-splittingly funny. This book presents oddities from various areas of knowledge: weird events, involuntary funnies or "facts" that have become twisted over the years. These include "The phenomenon of the disappearing tea spoons", "Sir Herschel's supposed lunar studies" and "The Mittelstress method", as well as Schiller and Goethe's hashish consumption. The stories and anecdotes can be read in one go or section-by-section, or dipped into every now and then, and are intended to make the reader, whether a scientist or layperson, laugh. After all, life is serious enough as it is.
MERKWURDIGES AUS ASTRONOMIE, PHYSIK, MATHEMATIK UND CHEMIE
Sir John Herschels angebliche Mondstudien
Dr. Licks und das Diaphote
Weihnachtliche Hochrechnungen
Alessandro Binomi und Julius Eigen
Was ist rotes Quecksilber?
KURIOSITATEN AUS TECHNIK UND INFORMATIK
Funktion und Anwendung des Lufthakens
Die Erfindung der Dunkelbirne
Das Phanomen der verschwindenden Teeloffel
Die Hommingberger Gepardenforelle
ERSTAUNLICHES AUS ANTHROPOLOGIE, BIOLOGIE UND MEDIZIN
Die Wurzburger Lugensteine
Die Kannibalentomate von den Fidschiinseln
Die Steinlaus Petrophaga lorioti
Das gentechnisch hergestellte Leuchtkaninchen
Das unklare Schicksal der Leuchtschnabelbeutelschabe
ERWAHNENSWERTES AUS PSYCHOLOGIE UND PADAGOGIK
Die erstaunliche Laufbahn des Ernst August Dolle
Die zweite "Wurzburger Schule"
Das "Projekt Alpha" des Zauberers James Randi
Murphys Gesetz als Pramisse von Handlungstheorien
ERBAULICHES AUS DEN LITERATUR-, MUSIK- UND GESCHICHTSWISSENSCHAFTEN
Die Bekanntschaft Goethes mit Genofee Battista
Goethe und Schiller rauchen Haschisch
Das umfangreiche Oevre des Kurt G. Schramm
Guglielmo Baldini - der Komponist des Papstes
WITZIGES AUS PHILOSOPHIE, SOZIOLOGIE UND OKONOMIE
Der Naturphilosoph Johann Jakob Feinhals
Jakob Pilzbarth -
Der Entdecker der Anthropolyse
Die Methode "Mittelstre?"

"Heinrich Zankl hat in seinem Buch die schonsten Eulenspiegeleien und Schildburgerstreiche aus allen Bereichen der Wissenschaft zusammengetragen. Ein kurzweiliges Buch, das mit einem Augenzwinkern auf den oft all zu ernsten Wissenschaftsbetrieb blickt."
RoSearch (8/2010)

"Loriots Steinlaus oder Murphys Gesetz mogen als Spa?e der Wissenschaft allgemein bekannt sein. Das dies nicht die einzigen Kuriositaten sind, zu denen ernsthafte Zeitgenossen fahig sind, hat der Autor in seinem Werk in hervorragender Art zusammengestellt. ..."
RFL - Rundschau fur Fleischhygiene (06/2010)

"Falls Sie glauben, dass die Wissenschaft eine langweilige, trockene Sache und nur fur eigenwillige Menschen ist, dann sollten Sie 'Irrwitziges aus der Wissenschaft' von Heinrich Zankl unbedingt lesen - denn dieses Buch wird Sie eines Besseren belehren... Wenn Sie der 'trockenen' Wissenschaft einmal mit Lachtranen-nassen Augen begegnen wollen, dann sollten Sie sich 'Irrwitziges aus der Wissenschaft' von Heinrich Zankl auf keinen Fall entgehen lassen."
Buchkritik.at (9.7.09)

"Der Autor hat schon mehrfach bewiesen, dass er einen kritischen Blick auf den Wissenschaftsbetrieb pflegt... Es geht im Buch ebenso darum, wie Wissenschaftler Kollegen und Offentlichkeit hinters Licht fuhren. Der zu Papier gebrachte Humor lasst sich indes nicht von allen teilen, denn die Kapitel sind so verfasst, dass man als fachfremder Leser manchmal nicht so recht wei?, wo die Grenze zwischen Wahrheit und lustiger Luge verlauft. Ein Fazit des Buches vielleicht: Traue keiner Quelle."
ekz-Informationsdienst

"Der Biologe und Wissenschaftspublizist Heinrich Zankl stellt in "Irrwitziges aus der Wissenschaft" eine reiche Auswahl dieser augenzwinkernden Erkenntnisse vor."
Deutschlandradio Kultur, Radiofeuilleton 29.06.2008, 11:33 Uhr

"Einen hochst vergnuglichen Band hat der Kaiserslauterer Emeritus Heinrich Zankl geschrieben: Er ist der Frage nachgegangen, was aus Forschungen und Forschern manchmal wird, wenn es Missverstandnisse gibt oder sich jemand einen Scherz erlaubt... In allen Ecken des Wissensbetriebs hat Zankl gestobert und zusammengetragen, was ihm in die Hande fiel. Herausgekommen ist ein Buch, das vor Augen fuhrt, dass in den Labors und Denkstuben dieser Welt nicht nur verknocherte Fanatiker sitzen, sondern mitunter auch Schelme, deren Humor subversiven Sand streut ins Getriebe der Wisserei."
Pirmasenser Zeitung (10.11.08)